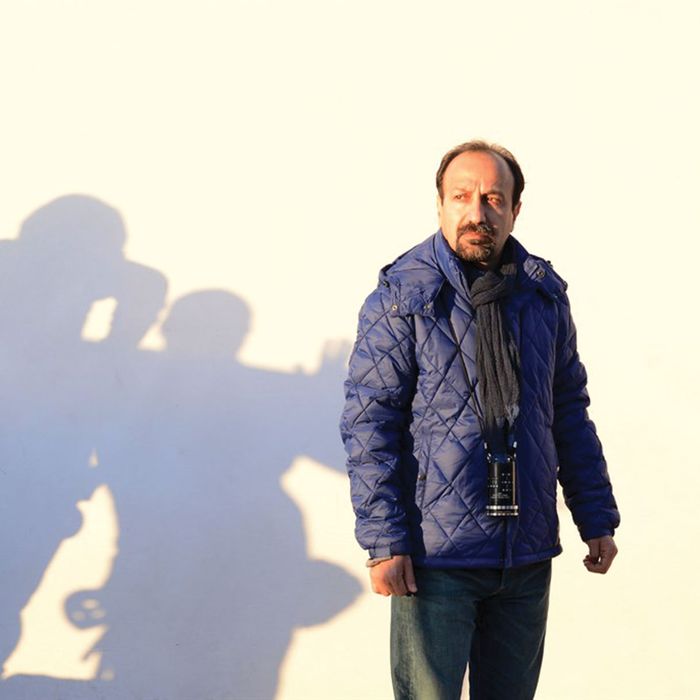 Asghar Farhadi.
Photo: Habib Majidi/Courtesy of Cohen Media Group
The Iranian filmmaker Asghar Farhadi understands English perfectly and speaks it competently, but prefers to use an English interpreter to conduct his interviews. It makes for a strange conversation — to look at someone intently while he answers in a language you don't understand, only to have to do it again with the interpreter. Several times, they stop to confer with each other over a word choice in Persian. Such verbal exactitude mirrors the great precision of Farhadi's films — taut, suspenseful explorations of knotty ethical issues, like the emotionally wrenching divorce in the Oscar-winning A Separation (2011) or the devolving relationships of a group of friends after one disappears in About Elly (2009).
On this frigid morning in early January, Farhadi, who's 44, has left behind the temperate winter of Tehran to come to New York to collect his Best Foreign Language Film award from the National Board of Review for his latest film, The Salesman, which also picked up Best Screenplay and Best Actor at Cannes in May and is nominated for an Oscar for Best Foreign Language Film. Even in a warm midtown office, he has wrapped his scarf around his neck multiple times. We have met to talk about The Salesman, but in speaking of a major theme, he could be talking about any of his seven films: "It's the most important question one should ask in one's life," he says. " 'What would I do if it were me?' "
The film centers on a couple in Tehran who are actors in a theater company producing Arthur Miller's Death of a Salesman. In the opening scene, Rana (Taraneh Alidoosti of About Elly) and Emad (Shahab Hosseini of A Separation) are being forced from their apartment after ominous cracks appear in the building's walls and windows. As a viewer, you are immediately sympathetic to Emad, who is kind and casually heroic during the evacuation of his fellow tenants. He and Rana seem happy. But after she is attacked in their new home, Emad, consumed by his desire to avenge her, becomes someone he and Rana do not recognize. "Emad turns the whole situation into a personal retaliation," says Farhadi. "Without understanding it himself, Emad gradually forgets Rana and what was done to her. In the end, the damage she has seen is less than the damage she sees after her husband removes her from the story."
It is commonly expressed that you never really know anyone, even those you love most. Farhadi is equally interested in how we don't know ourselves, as much as we'd like to think otherwise. "There are parts that remain hidden," he says, "and only in climactic situations do people learn about the other sides of themselves." The same could be said of a country: "Under certain circumstances, a society might do something to shock itself."
Farhadi, it turns out, traveled to America the day after our presidential election. "I was absolutely certain that the people here would vote for Hillary," he says. "And then I felt like I have no understanding of the American people." That makes two of us, I say, and he laughs. I describe how friends and families turned on each other during the campaign. "We had the same experience with a president," he says, referring to the conservative populist Mahmoud Ahmadinejad, replaced in 2013 by the more moderate Hassan Rouhani. "Ahmadinejad and Trump are not the same, but many of us felt a similar shock — this man couldn't possibly be our president."
And how did he survive those eight years? Farhadi pauses before replying. "It was the most bitter period of life that I remember."
Farhadi's films exist on a battlefield between the present and the past. "One of our greatest wishes is to return and correct our mistakes. What makes us old," he adds, "is not the passage of time, but the weight of the past on our shoulders." You see this poignantly expressed in the final scene of The Salesman, as Rana and Emad are made up for that night's performance, each dumbstruck and haunted by his act of revenge — an event that had been unimaginable just weeks before.
The members of Iran's new middle class — young, sophisticated, religiously tolerant, and thirsty for progress — are fertile subjects for the sort of moral entanglements at the heart of Farhadi's work. Like Emad, they are trying, at a rapid clip, to reconcile the traditions of a 1,000-year-old culture with Western ideas. One of the reasons Farhadi chose Miller's 1949 play was because of the parallels with America then and Iran today. Willy Loman is being victimized by the fast pace of capitalism, with its attendant shift from us to me. "We are struggling so much with our own individualism," says Farhadi, "that we can't see the world around us. All our lives we are trying to understand ourselves, and we still fail at that."
Farhadi has always felt that, emotionally, Iranians are closest to Americans. He grew up watching the films of the directors that he continues to like most: Martin Scorsese's earlier work (particularly Raging Bull), Coppola's Godfather films, Elia Kazan's, Kubrick's. He relishes the slower pace of that era, when audiences "were encouraged or allowed to think." Today's mainstream films too often "take that power away," he says, "as if the audience is shutting down their mind, focusing only on following the story."
He made his first film more than 30 years ago, when he was 13. Once Farhadi started making features as an adult, after studying theater, he worked within the constraints of low budgets and government censorship to produce his deeply nuanced portraits of modern Iranians — individuals an audience can view with understanding no matter their actions, in the vein of films by Scorsese and Kazan. I ask Farhadi why he remains in Iran when he would have greater freedom working in the West. He says he will never stay away for long; the culture and Persian language enrich him. "In their everyday conversations," Farhadi says, "people use poetry." Even when he does leave — as he did to film 2013's The Past in Paris — he doesn't journey far emotionally. His next film, his first with two non-Iranian stars — Penélope Cruz and Javier Bardem — will be shot in Spain. "In terms of production, it's different from what I've done in Iran," says Farhadi. "But in terms of cinematic language, it's continuing what I've done so far. It's about empathy between people."
*This article appears in the January 23, 2017, issue of New York Magazine.