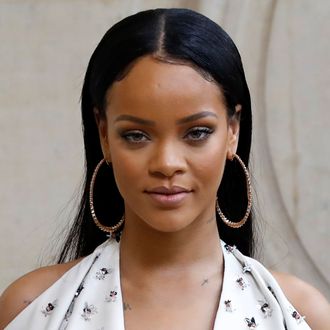 Rihanna.
Photo: PATRICK KOVARIK/AFP/Getty Images
Professional troll Azealia Banks is back at it, this time posting a screenshot of Rihanna's phone number on Instagram with the caption, "Bombs away!" We don't know how many of her 446,000 followers tried to call Rihanna, but according to E! Online, the number has since been disconnected and Banks deleted the screenshot. This all started yesterday when Rihanna tweeted about the Muslim ban: "Disgusted! The news is devastating! America is being ruined right before our eyes! What an immoral pig you have to be to implement such BS!!" Banks, who is an on-again-off-again-on-again Trump supporter, responded via Instagram: "As far as Rihanna (who isn't a citizen, and can't vote) and all the rest of the celebrities who are using their influence to stir the public, you lot really REALLY need to shut up and sit down."
After a few more back and forths, Banks posted Rihanna's number. Though it was unclear whether or not it was a response to Banks, Rihanna then posted a picture of herself kissing the camera with the caption: "what u came for …" Leave it to RiRi to go out on a high note.