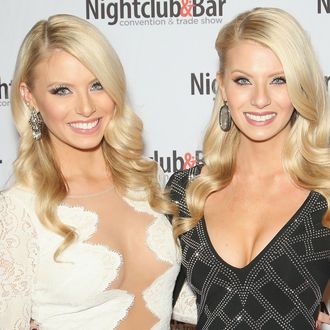 Sorry, we don't know which is which.
Photo: Gabe Ginsberg/Getty Images for Nightclub & Bar
If at first you don't succeed at distinguishing yourself from your twin sister while vying for the same guy on The Bachelor, dust yourself off and try again on Bachelor in Paradise. And if you don't succeed on finding love there either, well, it's a good thing your occupation is "twin" and you're free to pursue your own reality show. After delving into the extended Bachelor universe with Ben and Lauren: Happily Ever After?, Freeform is doubling down on the formula, this time with undoubtedly more interesting subjects: Emily and Haley Ferguson, otherwise known as the Twins. The Twins: Happily Ever After?, which will premiere on March 20, will follow the sisters as they move out of their mom's house in Las Vegas and search for independence and new careers (how about as Irish step dancers?). Though, let's be honest, being a twin full-time seems to be working out for both of them. Observe some of the prestige television they've already delivered to us on Bachelor in Paradise below for a taste of what's likely to come.