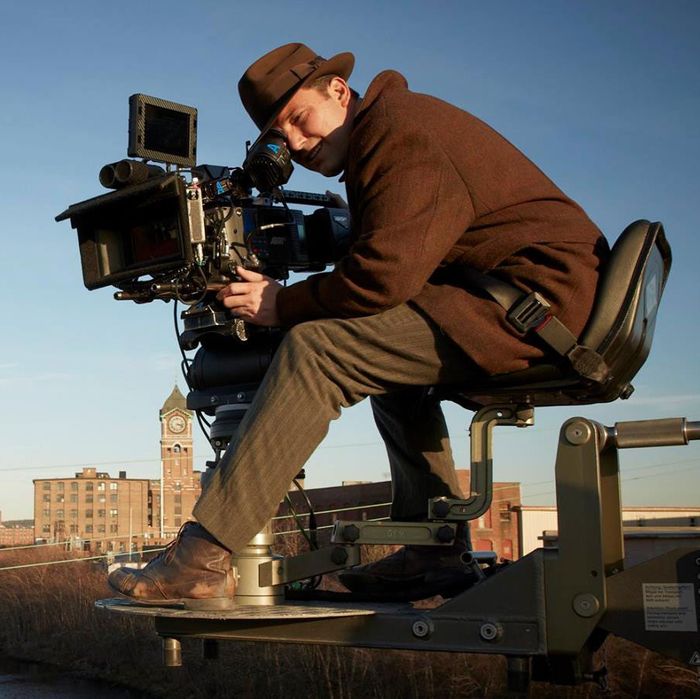 Ben Affleck directing on the set of Live By Night
Photo: Claire Folger/Warner Brothers
With Live by Night, his fourth movie as a director, Ben Affleck really went for the hyphens. Affleck is the writer-director-producer-star of the Prohibition-era gangster film, which was adapted from a novel by Dennis Lehane. In that way, it seems to mark a culmination of his prior efforts, which saw him take on some, but not all, of these duties: Gone Baby Gone (co-writer, director), The Town (co-writer, director, star), and Argo (director, star, producer). But while you might expect this concentration of power to also make Affleck increasingly the focus of his pictures, the opposite has actually been the case. Live by Night solidifies a theme that's been developing throughout Affleck's filmography to date: As a director, he's an excellent facilitator of the loaded ensemble casts he employs — a wingman, if you will, for the supporting actors of the world.
Here is a (very partial) list of the actors who have appeared in Affleck's four movies so far: Casey Affleck, Michelle Monaghan, Morgan Freeman, Ed Harris, Amy Ryan, Michael Kenneth Williams, Rebecca Hall, Jon Hamm, Jeremy Renner, Blake Lively, Pete Postlethwaite, Chris Cooper (twice), Bryan Cranston, Alan Arkin, John Goodman, Tate Donovan, Clea Duvall, Scoot McNairy, Kyle Chandler, Chris Messina (twice), Richard Kind, Sheila Vand, Philip Baker Hall, Elle Fanning, Brendan Gleeson, Sienna Miller, Miguel, Zoe Saldana, and Anthony Michael Hall. Between them, they've earned three Oscar nominations for their work in Affleck's films, with Ryan, Renner, and Arkin all getting noms in the Supporting Actor category. Affleck tends to make movies that have a broad, expansive canvas — it's no coincidence that his last three films were shot in wide-screen, 2.35:1 format — and that includes huge casts of characters whose connections to each other are the focus of his films, whether it's the detectives and kidnappers of Gone Baby Gone, the cops and robbers of The Town, the hostages and rescuers of Argo, or the gangsters and gang-adjacent Floridians of Live by Night.
In Affleck's movies, identities are constantly in flux — and that provides rich material for actors. Affeck has followed a similar playbook for all four of his features so far: At the center of his films is a man, played by either him or his brother, who has been set adrift by a crime or a loss, and then finds his purpose in either a woman or a cause, or some combination of the two. So far, that's had diminishing returns. The most interesting lead performance in an Affleck film is Casey's in Gone Baby Gone, and it's not a role that Ben would've been right for; the character is too bereft, too compromised for Affleck's adamantium jaw and superhero neck size, and his moral crucible provides perfect fodder for Casey, whose mere presence onscreen tends to suggest an almost mythological torment.
When Ben takes the lead in The Town, though, it's for an ideal Ben Affleck role, the bank-robbing townie who wants to make good. The Town allows Affleck to hold the screen while still sharing it, and it contains one of the best pieces of acting he's ever done, a speech he gives to Rebecca Hall's Claire Keesey in which he tells the story of his mom walking out on him and his father, mostly in one long, sustained take. If The Town isn't necessarily Affleck's best movie — I'd probably choose Gone Baby Gone, and I imagine some would argue for Argo, misguided as they may be — it's probably his best-made, and certainly his best-looking: His DP on the film was the virtuoso Robert Elswit, and the polish only adds to his performance.
The leads in Affleck's first two features moved the story along by their own actions from time to time, but the supporting players were given plenty of room to work. Harris and Freeman both received some choice monologues in Gone Baby Gone, with Freeman's role proving deceptively large by the end of the movie, while Amy Ryan's masterful work as a grieving, imperfect mother is key to the film's conceit. And in The Town, Jeremy Renner is allowed to devour the set every time he's in front of the camera, often overshadowing Affleck; the park of an unhinged bank robber is an ideal vehicle for Renner's caffeinated intensity, and for most of the film, it feels like he's literally baring his teeth. Meanwhile, Rebecca Hall brings crucial pathos to the potentially filler part of a robbery victim turned love interest, Chris Cooper has a good scene as Affleck's father, and Blake Lively gets to vamp it up in a very Blake Lively way. Most impressive of all, however, is Affleck's decision to cast Jon Hamm as the movie's FBI agent. Seen a few years removed from his work in Mad Men, Hamm's natural charisma and commanding presence gives the movie a necessary counterweight to the Affleck-Renner combo, the three men occupying a dynamic that is, come to think of it, more or less identical to that of this year's highly praised Hell or High Water. It suggests Hamm's career will increasingly benefit from the years put between him and Don Draper, and it's a credit to Affleck that he saw it in the moment.
Argo changed things. First of all, it didn't take place in Boston, and its subject was international statecraft and the movie industry, not small-time criminals and the cops who chased them. But more than that, the lead role began to fade in importance. If Gone Baby Gone and The Town had casts that convincingly suggested the tight-knit ecosystems of Boston neighborhoods, Argo's embraced its continent-spanning concept. There are a million actors in that movie, and they all stand out except for Affleck, who's content to hide behind a beard and a bit of Character Motivation 101 — estranged wife and son — so he can work primarily as a facilitator of plot. There are many scenes in Argo in which Affleck sits in a room with John Goodman or Alan Arkin and doesn't say a word, while those two men — supporting actors par excellence — run away with the film. Argo is a high-pitched affair, and as the Hollywood operators tasked with creating the movie-within-a-movie, Goodman and Arkin provide the necessary sense of levity, self-awareness, and joie de vivre that keeps it from floating off into space. They are the engine that makes Argo go, along with the hostages — DuVall, Donovan, and McNairy among them, all getting at least one scene to tear into — and government apparatus, filled with faces like Cranston, Chandler, Messina, and Hall, serious men who lend some gravitas to the least-interesting parts of the film.
And then there's Live by Night. Live by Night is, by consensus, Affleck's least-accomplished film so far, and it marks the nadir of Affleck's favorite archetype, the noble man driven into circumstantial filth. But despite the movie's sag and bloat, he still manages to make his cast look great. Live by Night spans two cities and many years, and despite the demands of that scale, Affleck finds at least one moment for each of its characteristically large cast to shine. As Affleck's father, Brendan Gleeson gets a couple of strong speeches at the beginning in which he does some poetic Irish moralizing, his character-actor bread and butter. Sienna Miller is dynamite as Affleck's love interest who never quite cops to whether she's as interested as he is, and her physicality in the film — she's either sauntering around underneath an overweight fur, curled up on Affleck's lap, or leaning on a fence like a queen — is a revelation. Chris Messina gets what might be his biggest movie role to date, playing Affleck's right-hand man, and he's put on a gut and a terrible mustache for the occasion; it's like he treated this part as a chance to unequivocally prove that he's killed Danny Castellano and thrown him in a river. Matthew Maher is sufficiently disturbing as the Klan sadist R.D. Pruitt, and Cooper gets to cry over pictures of his corrupted daughter.
Best of all, though, is Elle Fanning. Fanning announced herself in a big way in 2016, with varied and successful performances in Nicolas Winding Refn's The Neon Demon, Mike Mills's 20th Century Women, and now Live by Night. Affleck does what every good director of actors should do: He gives Fanning a rich part and gets out of the way. As Loretta Figgis, a victimized girl turned fire-and-brimstone preacher, Fanning is the most interesting element of the movie, a female riff on Paul Dano's Eli Sunday from There Will Be Blood. Fanning preaches from behind the altar and has a pair of fierce encounters with Affleck, the last of which shows her going off the rails; she infuses the scene with a bereft, childish confusion at herself and the world around her. She casts her eyes away from Affleck and says, mostly to herself, "We're all going to Hell." If you remember one moment from Live by Night, it'll be that one.
Even if Affleck might've hit a rut in what's been, otherwise, a charmed first act in his directing career, Live by Night does show that the talent is still there. The film looks good, if a little dark — once again, he conscripted a terrific DP, frequent Quentin Tarantino partner Robert Richardson — and the actors still shine under his supervision. Now, the trick will be for the director, who has The Batman and Witness for the Prosecution — a remake of the Billy Wilder courtroom drama — coming down the pike, to get back on the same page as his writer, producer, and star.