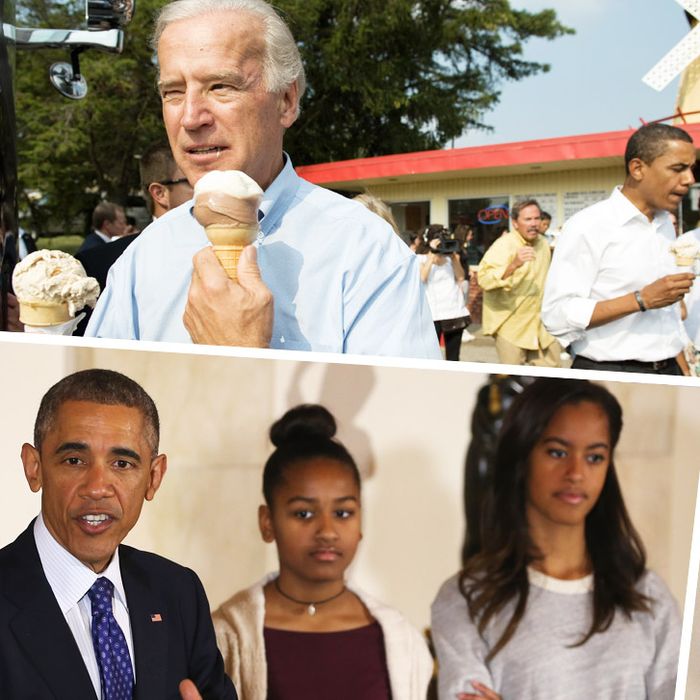 President Barack Obama has left the White House with a complex legacy. He's a Nobel Prize winner who presided over the rise of drone warfare. He was the country's first black president during years of stunning racial strife. He reformed the health-care system and celebrated the victory of same-sex marriage, yet he couldn't close Guantanamo Bay or rein in the surveillance state, and now risks seeing his achievements unraveled by the Trump administration.
We're not here to talk about any of that, though. Instead, let's pause to remember the moments that will be lost in the long-term analysis of Obama's presidency: the memes. From #ThanksObama to the Thanksgiving turkey pardon, these viral jokes have played a surprising role in the past eight years. With that in mind, here are the most memorable — and totally, utterly nonpolitical — of the many Obama memes.
1. Operation Fly Kill
In 2009, America was still discovering how President Obama differed from Campaign Obama. It was during an otherwise unremarkable TV interview that we caught a glimpse of his otherworldly focus and killer instinct. Annoyed by the intrusion of a common housefly during a conversation with CNBC's John Harwood, Obama went completely still as it landed on him, then nailed it with a swat. Although he then made a show of immediately reclaiming his unruffled demeanor, Obama was proud enough to make sure the camera crew zoomed in on the fly's corpse.
PETA wasn't happy about the impromptu "execution," but that didn't stop Obama from killing again.
2. "Thanks, Obama"
This involves just a bit of partisan politics, but it's too essential to ignore. First tweeted by @herdwatching in September 2009, "#ThanksObama" would become the sneer adopted by conservatives who blamed Obama for whatever they deemed unsatisfactory in the world at large. There's nothing novel about blaming your president for hardships big or small, and soon enough, liberals applied a second layer of sarcasm to this viral complaint, using the phrase when anything went at all awry — including weather and Mondays.

The president himself has been known to poke fun at the concept of his universal culpability, and gave the joke a bone-dry delivery when his giant cookie didn't fit in a glass of milk.
As Obama's time in office wound down, however, #ThanksObama changed yet again. This time, supporters earnestly used the phrase to show their gratitude after his eight years in the White House. Even Stephen Colbert couldn't help himself from slipping in one last #ThanksObama.
3. Malia and Sasha's oh-so-teenage reactions to the turkey pardon
Being a teenage girl ain't easy. Being the teenage daughter of the commander-in-chief? Nightmare. So it's understandable why Malia and Sasha grew rather, uh, disenchanted with the White House's annual Thanksgiving turkey pardon, a bizarre bit of dad humor that calls for the president to save a few birds from their fate on the dining-room table. Sure, the Obama kids laughed the first year, but by 2011, they were casting noticeable side-eye at the stunt. By 2014, their obvious sheer contempt for this political theater served as a master class in adolescent cynicism.
In November 2016, the siblings finally skipped the turkey ritual altogether. Obama had to bring in his much younger nephews to witness the honors — which, in fairness, are pretty silly.
4. The Baller-in-Chief
Obama wasn't yet in the Oval Office when he made it known how hard he goes in the paint: He was fine-tuning his jump shot before gym rallies on the 2008 campaign trail. You could write a whole book about what happened on the White House basketball court — which was actually a tennis court before Obama had it remodeled — and, in fact, GQ published a great oral history from the many advisers, athletes, and friends who have played with him there. Obama not only trash-talked NBA stars and ran up the score on anyone scared to foul him, but also frequently did so while wearing his shirt tucked into his pants. Absolutely merciless.
5. The Obama-Biden love affair
Don't call it a bromance. Barack Obama and Joe Biden are not bros; they are brothers. They are men who love and cherish each other. From their friendship bracelets to their jogging to their ice-cream dates, the Biden-Obama dynamic was proof positive of a partnership driven by shared vision. Biden, a one-time primary opponent, managed to be an incredible source of gravitas and goofiness in the Obama administration. His dirtbag Onion alter ego was legendary in its own right, though more often than not, the real Joe provided the best material. Of course, it all led to Obama surprising Biden with the Presidential Medal of Freedom in a teary-eyed surprise ceremony.
6. That infamous tan suit
This one time, at a press conference in August 2014, Obama wore a tan summer suit. For reasons mysterious to this very day, the choice blew up in his face, prompting White House press secretary Josh Earnest to actually say the words, "The president stands squarely behind the decision he made yesterday to wear his summer suit." Really! Although the whole kerfuffle was most certainly because Twitter had nothing else to talk about that day, the tan suit debacle endures in part because you know Obama is dying to wear it again. At his last press conference, he joked that only Michelle had stopped him from doing so.
7. When Obama interacted with any child, ever
No president gets to the White House without holding a few screaming babies, but quite often, Obama actually managed to soothe the tots back to silence. His reactions to kids in costumes, from Spider-Man to Prince to the pope, are among the most genuine expressions of joy he has shown to the public. Then there's the iconic image, captured early in his first term, of Obama bowing to a 5-year-old boy so he could see if the president's hair felt like his. As the New York Times reported in 2012, the photo "struck so many White House aides and visitors that by popular demand it stays put while others come and go."
Obama's ease with children is so natural that it would end up being even funnier when kids weren't on his side. Just think of poor little Abigail, who during the 2012 election burst into tears because of "Bronco Bamma and Mitt Romney."
Or the time Obama couldn't convince a bunch of screaming kids that "bees are good."
8. The impossibly cool music, and Obama's singing voice
Coming off the era of Attorney General John Ashcroft's insipid patriotic anthem "Let the Eagle Soar," Obama brought much-needed musical savvy to the White House. A week after the 2016 election, the Obamas hosted a star-studded party with Janelle Monáe and Common, where Usher recorded the president dancing to "Hotline Bling." Of course, Obama's love of music wasn't just on display when dropping impossibly cool summer playlists, calling Kanye West a "jackass," and inspiring rappers to embrace a new political consciousness: The man can also sing. And he knew when to do it.