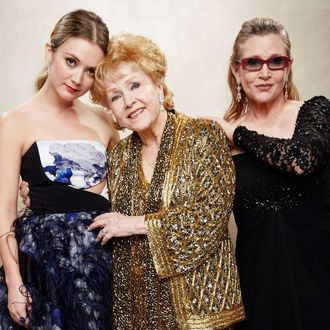 Billie Lourd, Carrie Fisher, and Debbie Reynolds in 2015.
Photo: Kevin Mazur/WireImage
Billie Lourd had an unimaginably bad string of days last week when her mother, Carrie Fisher, and grandmother, Debbie Reynolds, died one day apart. Now, Lourd is speaking publicly about her losses for the first time. Sharing a photo of herself, Fisher, and Reynolds from Lourd's childhood, Lourd posted a note on Instagram. In it, she thanks fans for their support, saying, "Receiving all of your prayers and kind words over the past week has given me strength during a time I thought strength could not exist." She then revealed how she is coping with the passing of the two most important women in her life, continuing, "There are no words to express how much I will miss my Abadaba and my one and only Momby. Your love and support means the world to me." Here's hoping Gary Fisher is right next to her, keeping her warm.