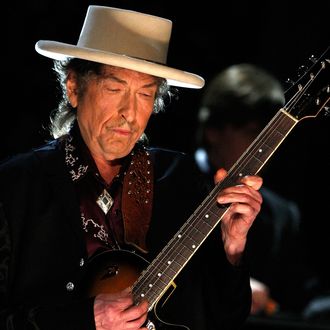 We'll believe it when we see it.
Photo: Kevin Winter/Getty Images for AFI
In festival lineups you don't see every day, Delaware's Firefly Music Festival has convinced Bob Dylan to come out of hiding to headline its 2017 festival alongside a bunch of randoms (Chance the Rapper, the Weeknd, Muse, Twenty One Pilots, you know, no one special). This year, Firefly has declared itself the first-ever fully fan-curated festival, meaning seemingly everything from the Porta Potties to the artists has been chosen by the fans who'll fork over their money to be there. It sounds like big talk, but in announcing its 2017 lineup, Firefly has also provided a video with footage of fans begging for the likes of Weezer, Kesha, and especially Twenty One Pilots (who knew?) as proof that the festival listened.
According to an interview with festival organizers, the bookings of Busta Rhymes, Thirty Seconds to Mars, Galantis, and Dillon Francis all happened specifically because it's what the fans wanted. And of all the fan requests in the festival's history, Firefly says Dylan has by far been the most consistent choice in the top 10 on their annual surveys. Ask and you shall receive, but only because the "stars aligned," so maybe hold off on asking again for another decade. Dylan last played Desert Trip (a.k.a. "Oldchella) in 2016 but then famously caused a ruckus by snubbing the Nobel Prize ceremony, so it's a pretty fair toss-up whether he'll actually commit to Firefly. Though getting to say that you, too, got stood up by Bob Dylan is a prize in itself.