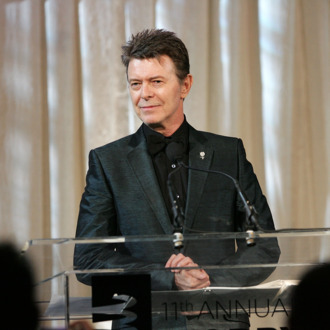 This weekend marks the one-year anniversary of the death of David Bowie, and in the late superstar's honor, the BBC is airing a series of tributes. Among these is the documentary David Bowie: The Last Five Years, interviews from which, featured in the U.K.'s Guardian newspaper, reveal that Bowie may not have been aware he was succumbing to his disease until a few months prior to his death. This calls into question the commonly held belief that Bowie's last album, Blackstar, especially the video for the single "Lazarus," is a direct acknowledgement of, and a grappling with, his approaching death.
The documentary's director, Francis Whately, who also helmed the documentary David Bowie: Five Years — which dealt with the five most significant years in Bowie's career between 1971 and 1983, including the famous Ziggy Stardust period — uncovered this information via Johan Renck, who directed the video for Blackstar's lead single, "Lazarus." Renck says that Bowie only learned that his treatments were not working and decided to cease them during the filming for the video, which had previously been conceived by Bowie and Renck together. Notably, Renck says, it was he and not Bowie who conceived of placing Bowie in bed. Whately told The Guardian that the simple narrative of Blackstar being a death record is, therefore, too simple.
"I still don't know if he started making Blackstar before he knew he was ill, or after. People are so desperate for Blackstar to be this parting gift that Bowie made for the world when he knew he was dying but I think it's simplistic to think that. There is more ambiguity there than people want to acknowledge. I don't think he knew he was going to die."
David Bowie: The Last Five Years covers the period from 2013's surprise record The Next Day up until his busy final years working on Blackstar and fulfilling his dream of creating a Broadway musical with 2015's Lazarus. It includes interviews and reflections on the artist's work in his final years from close associates and fellow creators and will air this Sunday, January 7 on BBC2 in the U.K. Watch the video for "Lazarus" below.