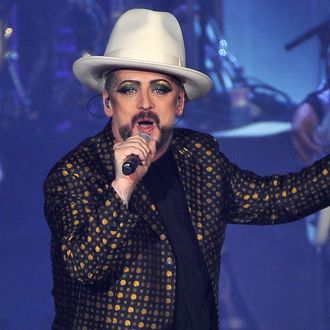 Photo: Jim Dyson/Getty Images
Boy George is not backing down after comments he made on Twitter led many to accuse the singer of biphobia. The firestorm started with a tweet on Monday in which Boy George expressed doubt that tweets by Fadi Fawaz, boyfriend to the late George Michael, about Michael allegedly committing suicide, were, as Fawaz claimed, the result of being hacked. Boy George tweeted, "'My computer got hacked' is like 'I'm bisexual' or 'I'm sniffing because I have allergies.'" The post has since been deleted (but was captured as a screenshot by Queerty), but its deletion did not stem the oncoming controversy, as upset followers expressed their feeling that the joke perpetuated the reduction of bisexuality to a lie told by people who are unwilling to call themselves gay.
In the face of the accusations, Boy George got defensive. Responding to a fan who felt "hurt that you'd reduce my valid sexuality to a lie or joke," Boy George hit back, "My tweet was not directed at you? How big is your ego right now? Lots of people use 'bisexual' when they really mean 'gay.'" He then answered a user who said, "In my experience people use bi when they aren't ready to fully come out" by continuing, "My point completely but that doesn't mean some people are not genuinely bi." Despite Boy George settling his stance, the issue did not dissipate, as the singer continuously mocked the idea that his comment was biphobic over the next few days. He tweeted such rebuffs as, "Bi-phobic? Yeah, of course. Suck my bigot toe! :)" and "Go write a poem!," among many, many other retorts. The firestorm only (seemingly) came to an end when Boy George got bored. His last tweet on the subject? "I'm Bore-phobic." Read a collection of his numerous missives below.