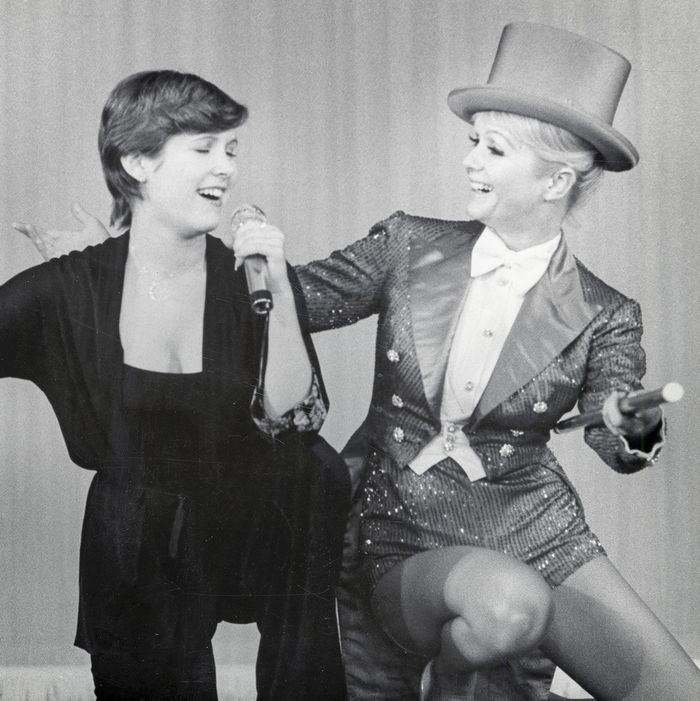 L-R: Carrie Fisher and Debbie Reynolds.
Photo: Fisher Family Archives/courtesy of HBO
Bright Lights, a portrait of the perpetually intertwined lives of Debbie Reynolds and Carrie Fisher, would be an intimate, moving documentary in any context. But after Fisher's recent death at age 60 and the immediate subsequent passing of her mother, Reynolds, at 84, Bright Lights is now infused with so much bittersweetness that, at times, it hurts to watch it.
Bright Lights first screened at the 2016 Cannes Film Festival and was originally slated to debut on HBO in March, but the back-to-back holiday-season losses of its subjects prompted the network to air it sooner: specifically, this Saturday night at 8. Viewing it is therapeutic and wonderful, but also like going through an additional step in the stages of grief. Let's call it Processing Via Premium Cable Documentary. I think it comes after depression but before acceptance.
Fisher Stevens, the producer-director and character actor, and his girlfriend, documentarian Alexis Bloom, made Bright Lights in 2015, and did so at the behest of Fisher, who wanted to record her mother's last performances before officially retiring. As the movie unfolds, Fisher is in the process of getting back in shape to reprise the role of Princess Leia in The Force Awakens, while Reynolds is growing increasingly frail but no less hungry to perform. At the time, no one could have predicted that Fisher would leave this earthly realm first, followed so closely by her mom. That hindsight gives numerous moments in this documentary an extra layer of meaning and an additional jolt of poignancy.
"What does he get in the will and what do I get?" Fisher asks Reynolds, referring to her brother, Todd, via a voice-over that provides the soundtrack to family home movies.
"Oh, I'm not going to tell anybody that," her mother responds. Later, after Fisher voices concern that her mother is pushing herself too hard, Reynolds responds by repeating something George Burns once said: "I'm going to stay onstage until I drop dead. And then I'm going to have myself stuffed, like Trigger, and then I'll put me in a museum."
The two lived footsteps away from each other, on the same Beverly Hills compound that's captured, in all the whimsical detail with which Fisher infused it, throughout the documentary. (In one laugh-out-loud sequence, Fisher shows off her collection of "ugly children portraiture," a room filled with random, old-fashioned paintings of kids, one of whom she describes as "Shia LaBeouf as a Dutch underage prostitute." Even this woman's walls had a great sense of humor.)
Within that shared space, Fisher and Reynolds function the same way that so many mothers and daughters do, which is one of the reasons their back-to-back deaths hit so many so hard. They openly fret over each other. They each bemoan the risks the other one takes, as well as the risks never taken. (Fisher, who has a singing voice that could knock off socks, shoes, and perhaps some toenail polish, says she rebelled against her mother by refusing to ever do her own nightclub act. "I love that voice," Reynolds says at one point through tears. "Isn't that a great voice? I wish I had it.") They're stubborn and do things that aren't in their own best interests. (Reynolds won't slow down, Fisher won't stop drinking unlimited Coca-Colas and smoking cigarettes.) They bicker about everything, from ancient personal history to why Reynolds is still using a '90s-era cell phone.
Stars like this: They're just like us. But then, they're also not, as clips from their many screen and stage appearances remind us, even the ones based on them that don't feature their faces, like Postcards From the Edge, the movie based on Fisher's memoir.
Reynolds and Fisher had relationships with fame that were just as interesting as their relationship with each other, and the filmmakers capture that, too. The mother, who had a wry wit that her daughter would inherit and amplify, was pure Old Hollywood. Even in her 80s, we can see her trying to always put her best possible face forward, which is why, on a day when she's not feeling well, she makes sure the cameras stay outside her front door.
Fisher, on the other hand, lives by the maxim "This is me, deal with it." So the camera is there for everything, including a conversation with longtime friend Griffin Dunne, in which they discuss how Fisher lost her virginity to him; one of Fisher's manic episodes (the actress and writer was bipolar and admirably vocal about it); and a heartbreaker of a moment, when Fisher attempts to make sure her mom will have a place to rest backstage at the 2015 Screen Actors Guild Awards, where Fisher presented her mother with the lifetime achievement award. While assistants and ceremony organizers reassure Fisher that her mother will be accommodated, Fisher breaks down crying.
The SAG Award tribute winds up going just fine. After it's over, Todd and Carrie Fisher, back at home with their mother, ask if she's prepared to handle getting more lifetime achievement awards.
"I can't answer it because it's too special," she says. "And I won't be here then. I will have gone on."
As she speaks these words, she has her arm around her daughter. They're sitting next to a twinkling Christmas tree that probably should have been taken down but is still standing there in January, defiantly bright. They didn't know it then, but the two of them would only have a couple more Christmases together. No matter how unsinkable you are, no matter how hard you try to use The Force, it's impossible to look at that image of mother and daughter, fiercely by each other's sides, and do anything other than cry.