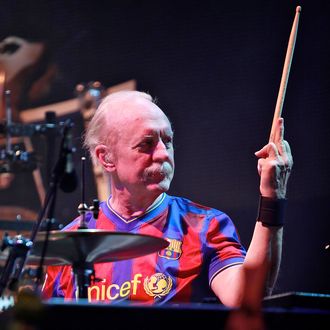 RIP.
Photo: Charles Eshelman/FilmMagic/Getty Images
Butch Trucks, the drummer and founding member of the Allman Brothers Band, has died at 69. According to an announcement from the band, Trucks died Tuesday night in West Palm Beach, Florida; no cause of death has been given. "I'm heartbroken," Gregg Allman, fellow founding member, said in a statement. "I've lost another brother and it hurts beyond words. Butch and I knew each other since we were teenagers and we were bandmates for over 45 years. He was a great man and a great drummer and I'm going to miss him forever. Rest In Peace Brother Butch." Trucks, who was born Claude Hudson Trucks in Jacksonville in 1947, first started out playing in short-lived bands with Duane and Gregg Allman before forming the Allman Brothers Band together with Dickey Betts, Berry Oakley, and Jai "Jaimoe" Johanny Johanson.
For years, Trucks and Jaimoe complemented each other as dual drummers, each fusing their own signature style with the other's to form the cohesive southern-rock sound that cemented the band's legacy. "We needed Butch, who had that drive and strength, freight train, meat-and-potatoes thing," Gregg Allman once said of Trucks's drumming in the band's biography One Way Out. Following the band's official breakup in 2014, Trucks performed under his own name at festivals and concerts and, most recently, was a vocal opponent of Donald Trump surrounding the presidential election. "I'm going to tape Donald J. Trump on all five of those drums, I promise you," Trucks said in one of his final interviews last year. "I am gonna beat the living shit out of them and I'm going to feel so much better."
Update, January 27: According to police records, the cause of Trucks's death has been ruled a suicide.