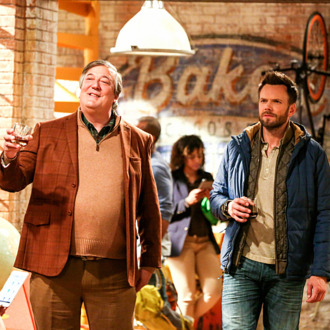 Stephen Fry and Joel McHale in The Great Indoors.
Photo: Michael Yarish/Image Courtesy CBS
As far as network TV goes, the current reigning champ when it comes to viewers and their eyeballs is, interestingly enough, the Eye — that is, CBS — whose hold on America's TV screens is tighter and more constant than its competitors. It's perhaps no surprise then that CBS has chosen to expand the seasons of its three newest comedy series, all of which are performing well, according to Deadline. Kevin Can Wait, Man With a Plan, and The Great Indoors, three shows about aging white males (Kevin James, Matt LeBlanc, and Joel McHale, respectively) trying to deal with life (read: young people and women) in a world 1000 percent built for them, are all getting extra time in their first seasons on the network. Kevin Can Wait, which averages around 10 million viewers weekly, will balloon from 22 to 24 episodes, while the other two series will now receive 22 instead of 18 episodes each.