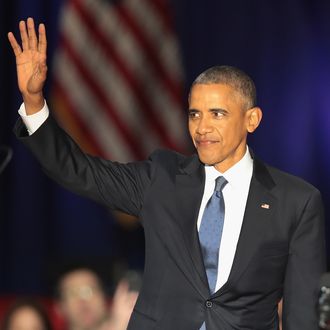 Photo: Scott Olson/Getty Images
During Barack Obama's final speech in office, and in the moments after, many celebrities took to social media to pay their respects to the 44th president. While some chose to share personal memories of meeting POTUS, others commented on the speech itself. Of course, more than a few also got in a few jabs — both direct and lightly veiled — at the next guy taking over the job. Donald Trump has yet to respond to Obama's speech; he might be a bit preoccupied right now.
champagnepapi As a Canadian that calls America home for part of the year I will always carry your words and the memory of your time in office with me as inspiration. Big up yaself O.