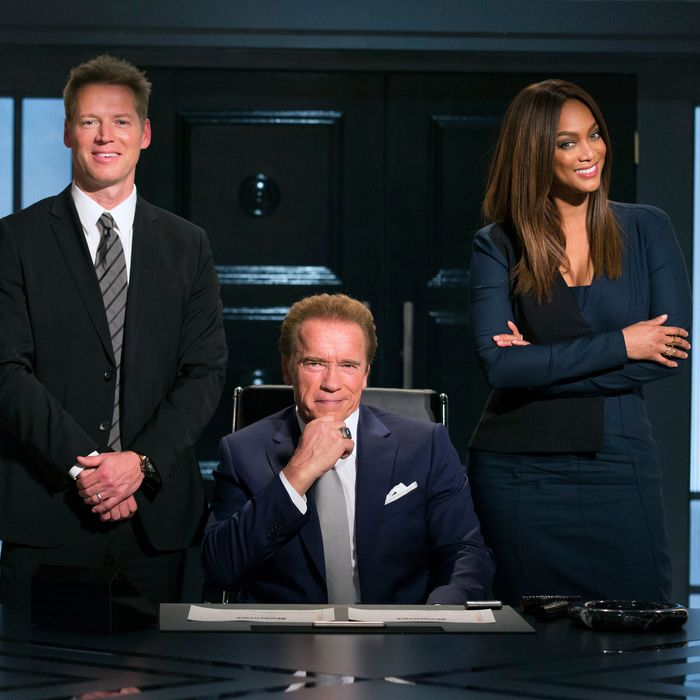 L-R: Patrick Knapp Schwarzenegger, Arnold Schwarzenegger, Tyra Banks.
Photo: NBC/Luis Trinh/NBC
Celebrity Apprentice returned to NBC last night, sludging its way through an ad-clogged premiere that ran two hours but felt like six. The show's new host, former movie star and California governor Arnold Schwarzenegger, trotted out several of his old movie catchphrases (including "You're terminated" in place of the customary "You're fired"), insisted that the contestants address him as "governor," and deferred most evaluations of the competing teams' efforts to his two "advisers": model and makeup entrepreneur Tyra Banks, and his nephew, Patrick Knapp Schwarzenegger. The Governator split the teams up by gender, as the show tends to do. Despite the editors' attempts to create an illusion of melodrama by spotlighting, say, the now-sober Boy George griping about Motley Crüe's Vince Neil drinking wine in front of him during a jingle recording session, none of them made a particularly strong impression — although former Jersey Shore star Nicole "Snooki" Polizzi stood out for taking the contest about as seriously as it needed to be taken, and former Queer Eye for the Straight Guy co-host Carson Kressley was so quick with the quips that I would have rather seen him host. ("We get to Venice Beach to start shooting, and its like everybody needs a Ritalin smoothie.")
Arnie wasn't dreadful, but he wasn't memorable, either. He was more likely to trot out ancient anecdotes about bodybuilding, which is not a managerial skill, than running the country's most populous state, which is. But he seemed to be a halfway decent listener — although, the magic of editing being what it is, who can say, really? He managed not to look completely bored and confused, and  he didn't humiliate or sexually taunt any of the guests, as was the case with his predecessor, Donald J. Trump. But then, his predecessor was ultimately elected president of the United States — based in part on the mystique that this program wove around him — and, according to Forbes, he will continue to receive about $7 million a year from NBC in his capacity as executive producer, a title he refused to give up despite warnings that it constituted a major ethical breach. If whatever works is the right thing to do, Trump is untouchable.
The fact that the almost-president is a continuing financial partner in a prime-time series on an ad-supported network with a news division, plus two sister cable channels devoted to news (MSNBC and CNBC), neutralizes any fine-grained, minute by minute criticism I might have to offer here (not that anybody really expects any when the show is Celebrity Apprentice). It also wreathes this series in a stench so foul that it can never be waved away.
We're through the looking glass now, people. Sights that would have seemed not just unethical but unforgivably bizarre only a couple of months ago — such as the name of the soon-to-be president of the United States appearing after the end-credits shot of a fired Carnie Wilson flying over Los Angeles in a chopper — are just part of the larger landscape of weirdness. If the rebooted Dragnet that aired in the late 1960s had ended with "Executive Produced by Richard M. Nixon," or if Grey's Anatomy circa 2008 had ended with "Executive Produced by Barack Obama," would we have all just collectively shrugged it off as one of the perks of being a winner? If Trump's "grab them by the pussy" remarks to Access Hollywood's Billy Bush (who subsequently left NBC) had ended his presidential run, would the entertainment press have made a bigger deal of the fact that Schwarzenegger was accused of sexual harassment by six women back in 2003? Schwarzenegger quoted a monologue from his 1982 breakthrough film, Conan the Barbarian, itself paraphrased from Genghis Khan, telling the contestants that the point of business was "… to crush your enemies, to see them driven before you." But he left out the punch line: "… and hear the lamentation of their women." Smart play.
Like a lot of folks in the latte-sipping, winner-hating media, I wrote a piece warning about the normalization of Trump right after the election, but here we are in January 2017, and it's already clear that not enough people care about these issues to turn presidential financial ethics into an issue with teeth. Back in 1976, Jimmy Carter put his peanut farm and warehouse in a blind trust prior to being sworn in, to avoid even the appearance of conflict of interest; our incoming president, in contrast, will continue to receive millions a year from an entertainment conglomerate that also airs NBC Nightly News and Meet the Press, and the supposedly "blind" trust that will handle this and other financial matters will be run by his adult children, who advise Trump every day and even sit with him during important ceremonial meetings. Somehow this is all okay now, or at least not unusual enough to get worked up over. Like Trump's hotel properties, which stand to benefit from his administration's regulatory and foreign-policy decisions (did you know that Trump's partner in an Indonesian hotel project is about to run for president himself?) Trump's NBC deal appears to fall under the heading of "to the victor belongs the spoils." Long ago, that phrase was applied mainly to war, but it has leached into politics and business, too, and it's a very Trump way of characterizing life in all its aspects. Perhaps the biggest mistaken assumption made about Trump from the start was that he was either a businessman or a politician when he's actually a warlord. Who else to replace him but Conan?