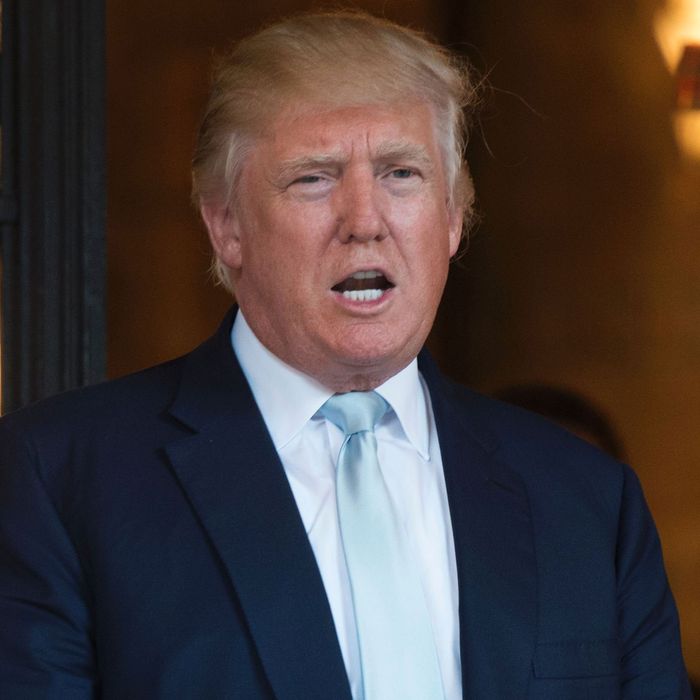 Who's fired?
Photo: DON EMMERT/AFP/Getty Images
President-elect Donald Trump spent part of his Friday dissing Arnold Schwarzenegger, suggesting the Hollywood superstar's debut as host of the Trump-produced Celebrity Apprentice had been a ratings failure compared to "the ratings machine, DJT." Part of PEOTUS's latest tweet was correct, as we noted Tuesday: What NBC is officially calling The New Celebrity Apprentice opened to sharply lower Nielsen numbers than the last Trump-hosted edition of the reality franchise. And yet, as is often the case with Trump, that one element of truth is overshadowed by a much bigger lie. No matter how much Trump tries to gaslight the country on this matter, the fact is The Apprentice — with or without "DJT"— hasn't been a ratings hit for many, many years.
One needn't actually go back very far to disprove Trump's claim that he was a "ratings machine" as host of Apprentice. His most recent, and presumably final, season on the show aired midway through the 2014–15 television season. Per Nielsen, the show averaged 7.6 million viewers over the course of its run during the winter of 2015, including people who watched via DVR. Now, getting nearly 8 million people to watch anything is not nothing, particularly for a decade-old show like Apprentice. But Trump's series ranked No. 67 among broadcast series during the 2014–15 season, attracting fewer viewers than quickly canceled series such as CBS's Battle Creek and NBC's State of Affairs. And even among network reality shows, Apprentice wasn't very popular with American audiences that season. It ended up with fewer viewers than NBC's The Voice and America's Got Talent, CBS's Big Brother and Survivor, Fox's American Idol, and ABC's Dancing With the Stars and Shark Tank.
The contrast with the other big celeb-driven reality show — Dancing with the Stars — is particularly sharp. The ABC competition, which also makes heavy use of B-level stars (Suzanne Somers and Redfoo of LMFAO were among the cast in spring 2015), drew 15 million viewers that year, basically doubling the Donald's boardroom bantering. And while the Apprentice franchise has been around slightly longer — it bowed in 2004, a year before DWTS — the latter series has churned out far more installments over the years. The same holds true for CBS's Survivor, which is even older than Apprentice (it bowed in 2000) and yet averaged 11.6 million viewers for its two cycles during the 2014–15 season. With all due respect to the incoming president, DWTS and Survivor are far more deserving of the title "ratings machine" than the former host of The Apprentice.
Of course, Trump's insistence on inventing his own ratings reality is hardly new. As a TV editor for showbiz trade Variety during the 2000s, I was the lucky recipient of a couple of phone calls from Trump in which he'd gamely spin the show's numbers in a way which, to be blunt, was detached from reality. The late Jim Dowd, an NBC publicity exec assigned to The Apprentice early in its run, told PBS's Frontline last year that Trump refused to accept the show's Nielsen decline once it began. "… [A]ll of a sudden ratings were not 20 million anymore," Dowd told PBS. "They were substantially lower, still doing well, but not winning the time slot necessarily. Demos were good, but overall viewers continued to — every season it declined. [Trump] never saw it that way … There's about 10 people who cover ratings in terms of the publications that matter most. And he would want to make sure I called all those 10 people and told them, 'Number one show on television, won its time slot,' and I'm looking at the numbers and at that point, say season five, for example, we were number 72. I can't tell that to him. I can't say that. Maybe I should have, maybe I should have gotten [then–NBC chief] Jeff Zucker involved, but he became kind of a monster when it came to these ratings."
None of this is to suggest The Apprentice under Trump was some sort of Nielsen dud. Among the key demo of adults under 50, the last DJT-anchored Apprentice did a bit better than among American audiences as a whole, edging out Shark Tank and tying DWTS. And in its earliest days, the show was certainly a legit phenomenon. The Apprentice's season one finale back in 2004 drew 28.1 million viewers, briefly putting it in the same universe as reality megahits like the aforementioned Survivor and American Idol at their heights. But what's also true is that The Apprentice flamed out quickly as a ratings juggernaut. Just two years after it exploded on to TV, the show's June 2006 season finale attracted just 11.3 million viewers — a more than 60 percent audience collapse. To put it in terms Mr. Trump might better appreciate these days, that's a Jeb! Bush–level free fall. The ratings decline was so pronounced, NBC cut back production of the show (from two cycles per year to just one) and then abandoned the original format, subbing in "celebrities" for real people entrepreneurs. Eventually, even the star-driven edition of the show began to fade. Since 2013, the Peacock has demoted Celebrity Apprentice to a once-every-two-years affair. As one broadcast industry insider told Vulture Friday, "It became filler for NBC." If only the network could get Russia, or a 400-pound guy on his couch, to hack into Nielsen's computers and make Apprentice ratings great again.