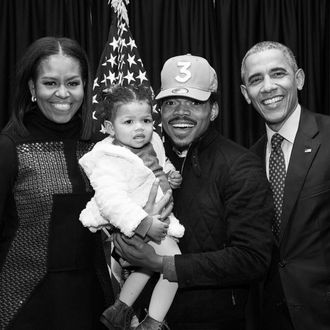 Photo: chancetherapper/Instagram
Instead of sneaking in coiled inside a giant cake or crawling up through the plumbing, Chance the Rapper's detailed recap of the Obamas' farewell party just gave you enough detail to make it believable when you claim you got to see POTUS and FLOTUS close out their eight years in the White House. Who's going to call you out for lying? No recording was permitted at their farewell party on Friday (save for a few gorgeous pics) but, as evidenced by the glamorous after-party photos everyone posted after the fact, it was a banger. Now, thanks to Chance, you even know Ezperanza Spalding was the most beautiful person there and that Dave Chappelle had the firmest, most satisfying handshake. All these helpful specifics, and you didn't even have to put on a hyperrealistic Bo costume and shimmy in through the doggie door.
The one party we'll wait in line to get into… @johnlegend @chrissyteigen @jerryseinfeld @jessseinfeld @mimisam28 #whitehouse
Leaving the White House at 3am last night after dancing the night away, celebrating 8 incredible years. What an extraordinary night. Here with my dear friend @robinlordtaylor who came with me. Thank you @barackobama and @michelleobama for everything and for including me. Unforgettable and joyous and as inspiring as ever, even in the midst of such an emotional, bittersweet goodbye.
One of many celebrities at the White House bash "Celebrating Eight Great Years!" Tom Hanks=a very nice guy… must be his Bay Area roots!! #barackandmichelleobama #barackobama #michelleobama #whitehouse #tomhanks
All that Ebony at the White House Ayyyyyyyeeeee..We looking like the last episode of 106 & Park out this Bih😂😂😂 @usher @wale @lala @kellyrowland #blackstarpower #Whitehouse #MichelleObama #usher #lala #wale #kellyrowland