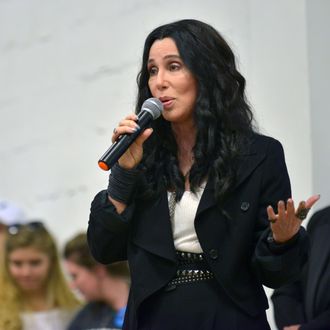 Cher campaigning for Hillary Clinton in November 2016.
Photo: Johnny Louis/FilmMagic
In this new era of TV-making, even Lifetime is getting into the politics game: According to The Hollywood Reporter, the channel of kidnapped daughters, daughters led astray, and daughters finally finding love is developing a made-for-TV movie about the Flint water crisis. The forthcoming Flint, which is being produced in part by Katie Couric and is based on a Time magazine story about families in the crisis, does not yet have a release date. It does, however, have a star: Cher. The glamorous, eminently recognizable pop star may at first seem an unusual choice to play the matriarch of a small-town-Michigan family, but Cher has been a vocal critic of the crisis, and her presence here can be viewed as a political act. As THR points out, Cher has not starred in a TV movie since 1996's If These Walls Could Talk, another politically charged made-for-TV offering (in that case, about abortion), for which she received a Golden Globe nomination. Praise be to Cher, the politically motivated made-for-TV-movie star 2017 didn't know it needed.