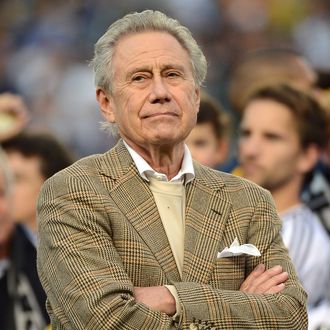 Let this be the end of this.
Photo: Harry How/Getty Images
Philip Anschutz, the billionaire owner of AEG, which owns the company that organizes Coachella, has spoken out regarding the recent headlines recirculating decades-old news that he had been making sizeable monetary donations to anti-LGBTQ organizations. In a statement to Rolling Stone, Anschutz calls the reports "fake news" and "garbage," claiming that he no longer donates to such groups. "I unequivocally support the rights of all people without regard to sexual orientation," he says. "Neither I nor the Anschutz Foundation fund any organization with the purpose or expectation that it would finance anti-LGBTQ initiatives, and when it has come to my attention or the attention of the Anschutz Foundation that certain organizations either the Foundation or I have funded have been supporting such causes, we have immediately ceased all contributions to such groups."
The news of Anschutz's donations was widely publicized in July 2016 when the Washington Post published a chart made by the LGBTQ rights group Freedom for All Americans alleging that Anschutz had donated upwards of $190,000 to anti-gay groups like the Alliance Defending Freedom, Family Research Council, and National Christian Foundation. The Anschutz Foundation had responded at the time that it "donates to hundreds of worthy organizations each year, and does not attempt to dictate to those organizations how to spend their monies." Anschutz's donations made their way back into the headlines this week on various music blogs because of the release of Coachella's latest lineup, which was announced on Tuesday.