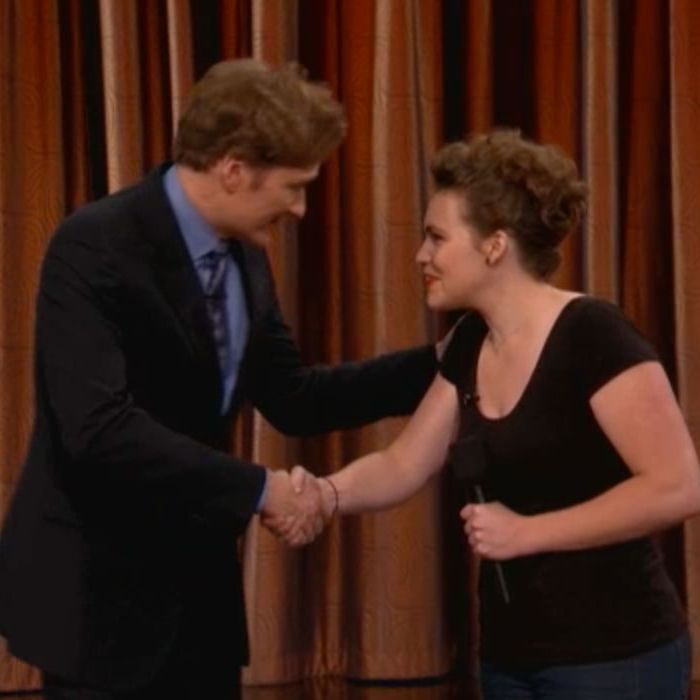 It was suggested yesterday that after more than 23 years, three shows, two networks, and two wars for late night, Conan O'Brien might at some point move away from the traditional hour-long, four-nights-a-week format; as our Joe Adalian reported, "Many different ideas have been explored, from the notion of a weekly hour, to a four-day-a-week 30-minute show, to simply producing fewer weeks of originals." Though Adalian's sources say it would be a while before any change occurs, the fact that it might happen says a lot about where comedy is and will go. Conan has seemed lost in the current late-night landscape, with his competitors essentially aspiring to have either mature political conversations or nightly kids' birthday parties. O'Brien's take on late night was more of a throwback — and whatever happens to his show whenever it happens, there is one fixture of American comedy that would seemingly suffer for it: the late-night stand-up set.
In Bill Carter's book The Late Shift, about David Letterman and Jay Leno's battle for The Tonight Show, he opens with Johnny Carson's surprise retirement announcement at NBC's 1993 Upfront presentation. Carter writes, "Johnny wrapped up his comments, with a strong endorsement of the continuation of The Tonight Show, because young performers needed a place to make their mark on the nation." Of the many marks left on comedy history by Carson, among the most significant was his giving new comedians a national platform. Sets on Carson's Tonight Show took on a mythic quality, with stand-ups seeing it as a sign that they were on their way. And for so many comedians — Ellen DeGeneres, Roseanne Barr, Drew Carey, Garry Shandling, Jim Carrey — that was correct. Stand-up comedy in turn built itself around that goal: Comedians would work to perfect a "tight 5," meaning a five-minute set of killer material that could be directly placed on The Tonight Show.
After Carson left, this infrastructure stayed, albeit with less resonance. A late-night set would no longer make you a star overnight. But it could help you get a headlining gig in Charlotte or Boise or Orlando — and when trying to break through in stand-up, it's about getting credits. Relatively unknown comedians need TV appearances so their agents can sell them to clubs around the country, so the clubs can in turn sell the comic to a general audience who doesn't keep up on comedy. (Also, before everyone had cameras in their pockets, tapes of TV performances were the only clips that existed for most comics.) And for years, a Conan O'Brien–hosted late night show was many stand-ups' first TV credit.
Last year, Conan had 41 stand-up sets. (Only Rory Scovel, whose Conan sets are must-watches in the comedy community because he always does something big or strange, performed twice.) There were some savvy vets — like Dana Gould, Sebastian Maniscalco, and Gary Gulman, whose set has been praised as a modern masterpiece — but that 41 was largely comprised of up-and-comers. Google the name of your favorite young comedian plus "Conan" and you're likely to find a video of them on Conan, looking fresh-faced and with the urgency of someone trying to be heard for the first time.
Assuming that Conan's eventual new format doesn't allow the time or flexibility for stand-up sets, it would be a significant blow to comedy. The other nightly late-night shows still have stand-up, but sparingly, seemingly there only to remind people that they are doing the same thing that Carson once did. Last year Corden and Meyers had eight sets apiece, Fallon had 15, Colbert had 16, and Kimmel had three. That, despite Fallon and Colbert doing over 50 more episodes than Conan, and Kimmel having 70 more. Last year, Conan had a stand-up set once every 3.7 episodes, which is more than once a week. No one else is anywhere close to that.
The solution wouldn't be as simple as the other late-night shows booking a few more comics a year, either. Just as Carson did in the past, O'Brien plays an integral part in the comedy ecosystem. There's a difference between being a late-night host who occasionally showcases young stand-ups, and being a host committed to that practice — and if Conan moves to weekly, or to any other format that precludes him from having a stand-up segment, it will be the first time in 50 years that late night doesn't have the latter.