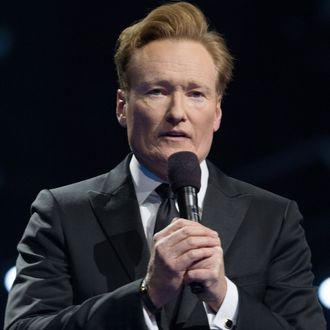 Photo: Nigel Waldron/Getty Images
After The Wrap reported that Conan O'Brien's beloved late-night TBS talk show, Conan, would be shifting from a nightly to an hour-long weekly format on the network, TBS president Kevin Reilly issued a statement denying any imminent plans for a scheduling change:
"Conan remains an invaluable franchise, partner, and producer for our TBS brand and we'll be in business with him for a long time. As the media landscape continues to evolve, Conan will continue to lead the evolution of what a talk show will be in the digital age. At this time, we have no plans to change the format or frequency of his popular TBS show. In addition to Conan's daily responsibilities to his talk show, we continue to have very ambitious plans that will further broaden and evolve our relationship with Conan."
The confusion started after The Wrap quoted Turner CEO John Martin at the Consumer Electronics Show last night in Las Vegas saying that in the current competitive climate of late-night television, a "one-hour weekly will just prove better for the show." In an interview with Vulture Thursday afternoon, longtime O'Brien producer Jeff Ross joined Reilly in dismissing this morning's report as very premature and ultimately misleading.
"There is no deal. There is no decision. And nothing is going to happen in '17," Ross told us. This is not to say change isn't likely in the air for Conan. Ross said he and O'Brien and Turner chief Kevin Reilly have been discussing the evolution of the show for several months now, particularly as O'Brien has spent more time doing single-topic shows in which he travels to different places and does cultural deep dives. "Conan went to Kevin and said, 'Can we do more of this?'" Ross explained, saying that opened the door to a discussion of whether and how to evolve the show's format. Many different ideas have been explored, from the notion of a weekly hour, to a four-day-a-week 30-minute show, to simply producing fewer weeks of originals. What all parties agreed on, Ross said, is that "it's hard to do four nights a week" of an hour-long show while also producing the kinds of specials O'Brien has been doing of late. But Ross said it would simply be "jumping the gun" to assume any decisions have been made.
The report in The Wrap, incomplete as it was, may have left the impression that TBS and Turner were somehow bailing on O'Brien by slashing his show to once a week. But that doesn't seem to be the case at all. For one thing, the network's deal with O'Brien runs through October 2018. Any changes to the show's format before then would have to be signed off on by O'Brien and his team, given contractual commitments. If TBS wanted to get rid of O'Brien, it would likely just let that deal expire and call it a night. More likely, as Reilly has indicated Thursday in interviews, TBS will find a way to extend its relationship with O'Brien for several more years, perhaps in conjunction with Conan adopting a new format sometime in 2018. Indeed, in an interview with Vulture last month, TBS chief Brett Weitz, talking about whether or not he'd want to expand Samantha Bee to multiple nights a week, indicated he was open to doing just that. "We talk to Conan all the time," he said. "It's four nights a week. It's the same thing. At some point, you're going to want a change." And Weitz clearly didn't sound like a man giving up on O'Brien, noting how fruitful the network's production deal with O'Brien's Conaco has been. (The company produces People of Earth for TBS.) O'Brien, Weitz said, "is probably the ambassador of all comics, so we get a lot of stuff through him and the overall deal with Conaco, which has proven to be pretty fruitful." 
This post has been updated throughout.