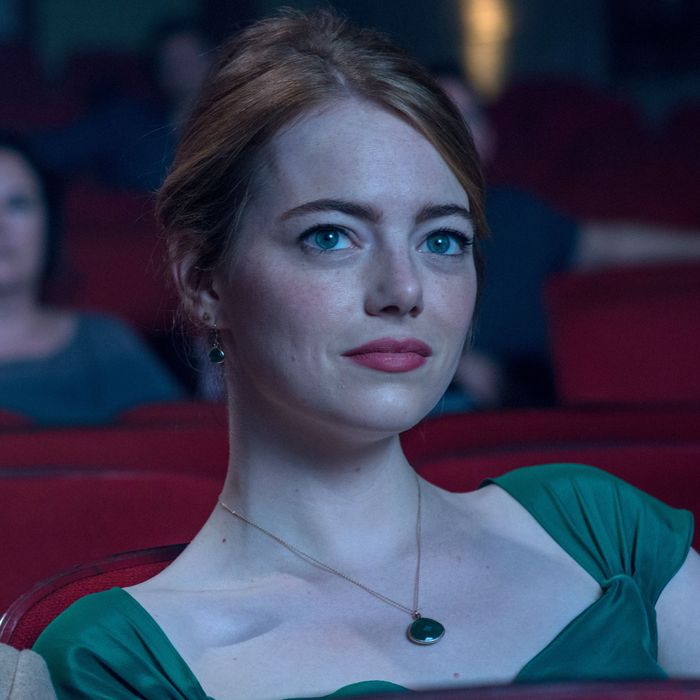 Photo: Dale Robinette/Lionsgate
La La Land tied a major Oscar record this morning, earning 14 nominations, a haul it shares only with Titanic and All About Eve. With just a month to go until the actual ceremony, the question now becomes: Can La La Land break another record by winning the most Oscars ever? To do so, it would have to earn more than 11 wins — the ceiling hit by Titanic, Lord of the Rings: The Return of the King, and the 1959 Ben-Hur — and since two of La La Land's nominations come in the Best Original Song category, it can max out at 13. How feasible would that feat be? Let's go over its chances in every category, from the likeliest wins to the long shots.
Best Picture
If the Academy saw fit to give La La Land a record number of nominations, there's no way it will lose Best Picture. Take this one to the bank.

Best Original Score     
This one's also going to go to the musical.

Best Actress
I've harped on this stat before, but when a young ingenue is nominated for a film that also earned nods for Best Picture and Best Director, she tends to win. (See Brie Larson for Room, Jennifer Lawrence for Silver Linings Playbook, and Natalie Portman for Black Swan.) That will give Golden Globe winner Emma Stone the edge here, despite a strong turn from Portman in Jackie, and a contender with momentum in Elle's Isabelle Huppert, who some pundits will likely now advance as Stone's rival.

Best Director
For a time, I thought Academy voters might want to engineer an increasingly common split by giving La La Land the Best Picture trophy while rewarding Moonlight's Barry Jenkins here. That theory fell by the wayside after the Academy ruled that Moonlight's script would compete for Best Adapted Screenplay, not the Best Original Screenplay race it had initially been positioned for. Jenkins will almost certainly win in that category, freeing up voters to vote Damien Chazelle for Best Director.

Best Original Song     
The only reason I'm more sure of La La Land's eventual victory in score instead of song is because here it has two submissions competing against each other. Could "City of Stars" and "Audition" cancel each other out? I suspect that the former, which was heavily featured in the trailers and has essentially become the movie's theme song, will still do just fine.

Best Sound Mixing     
While I've heard some complaints about La La Land's sound mix, it would be shocking if a musical couldn't take this home. When Chicago won Best Picture, this was one of the five other Oscars it picked up.

Best Cinematography     
In this category, La La Land is nominated against some awfully pretty pictures, including Moonlight. Still, La La Land's camera choreography ought to put it over the top.

Best Film Editing
Chazelle's Whiplash won this Oscar, and while La La Land's cutting isn't quite as flashy — its major duet is done in one sustained take — I don't detect a significant competitor that will bump it off.

Best Original Screenplay
Here, we've got a race between Chazelle and Manchester by the Sea director-scribe Kenneth Lonergan. While most pundits had favored the latter all season, Chazelle pulled off a significant victory over Lonergan at the Golden Globes, which helps his cause. Still, this one will be a nail-biter.

Best Production Design     
This trophy tends to go to a period or fantasy film, and while La La Land incorporates elements of both, it's still a modern-day story set in real, recognizable settings. If it wins in this category, it will be because of Chazelle's audacious dream finale, which is a real masterwork of art direction.

Best Sound Editing     
The difference between Sound Editing and Sound Mixing is that this category rewards the actual creation of sounds, rather than the way they're mixed together. The Sound Editing Oscar nearly always goes to an action movie, so La La Land has its work cut out for itself here. I mentioned Chicago earlier, and while it won for sound mixing, it wasn't even nominated in this category.

Best Costume Design     
Can a movie win this Oscar for a single dress? Emma Stone's canary-yellow number is one of last year's most memorable costumes, but there's no changing the fact that though La La Land's threads are retro-leaning, contemporary films simply don't do well in this category. The last modern-day movie to win Best Costume Design was 1994's The Adventures of Priscilla, Queen of the Desert, and that had plenty of outrageous drag-queen outfits to lean on.

Best Actor
Up against Manchester by the Sea's Casey Affleck, Ryan Gosling will be happy just to be nominated. (And if Affleck doesn't win for some reason, the usurper will likely be Fences star Denzel Washington.) Count on a loss here, though La La Land can only afford one other snub in addition to Gosling if it wants to tie the all-time win record.