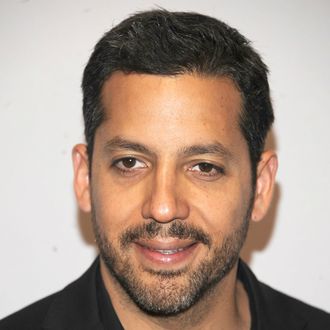 Photo: Getty Images/Brad Barket
In case you're wondering why "David Blaine" is currently trending, the answer is, of course, "a horrible reason." David Blaine's special Beyond Magic re-aired this past weekend on ABC and, in case you missed it, the magician recounts how his attempt to safely shoot himself in the mouth turned out to be, unbelievably, not very safe at all. As he explains, the magician intended to fire a bullet into a metal cup in his mouth, only to later discover that the cup had shifted within his mouth guard.
"When the bullet struck the cup, there was a high-pitched ringing in my ears and I felt an impact on the back of my throat. I was sure the bullet went right through my head and that I was dead," Blaine says in the special. "Suddenly I became aware of the pain and it brought me back. At that moment, I realized that the mouth guard had shattered again, and I was alive." First of all, "again"? Second of all, this seems like the exact thing magic would help prevent from happening, not the other way around. What ever happened to wizards and spells and such? Isn't that what magic is about? Gandalf's not out there putting a gun in his own mouth, that's for sure. Hopefully.