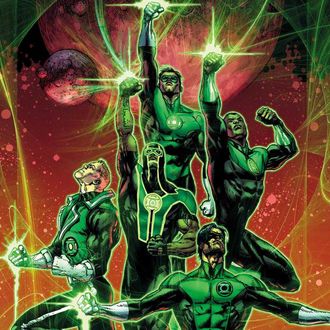 A day in the Corps is like a day on the farm.
Photo: Doug Mahnke/DC Comics
DC Comics superheroes have had some trouble on the big screen as of late, prompting high-profile rejiggering of their film adaptations' direction, but Green Lantern was getting bad reviews before it was cool. The emerald do-gooder tanked at the box office in his self-titled, Ryan Reynolds–led 2011 flick, but DC's corporate cousins at Warner Bros. didn't totally give up on him. For a while, there have been plans to incorporate a rebooted version of the character into the nascent DC Extended Universe, alongside Henry Cavill's Superman, Ben Affleck's Batman, and the like — and it now looks like they've recruited a superhero veteran to take a first stab at a script.
According to Deadline, Warner has tapped David S. Goyer to co-write the screenplay alongside relative unknown Justin Rhodes. Goyer is one of the most accomplished writers of the Superhero Boom, having written or co-written everything from hits like 1998's Blade and 2008's The Dark Knight to critical punching bags like Ghost Rider and Batman v Superman: Dawn of Justice. The film is tentatively titled Green Lantern Corps and, as the title implies, will not be a solo vehicle. The movie will apparently follow the adventures of two longstanding DC characters who have both worn the Green Lantern ring in the past: Hal Jordan and John Stewart. The former is white and the latter is black, and Deadline says the film "is described as Lethal Weapon in space," which seems like a … dubious proposition for racial sensitivity.
For those confused by the title and the notion of two Green Lanterns, the basic concept from the comics is that "Green Lantern" is not a single person, but rather a title bestowed upon members of an intergalactic police force known as the Green Lantern Corps. Hal Jordan was the first DC protagonist to be depicted as a member of the Corps, having been introduced in 1959, and John Stewart was introduced in 1971. John was initially a blunt narrative instrument, being used to comment on Nixon-era race relations, but has subsequently blossomed into a beloved and three-dimensional icon.
It'll be interesting to see how Goyer and Rhodes — both white men — tackle John and his relationship to Hal if the Lethal Weapon comparison turns out to be accurate. But, hey, maybe Warner will just do what they did with the last Green Lantern script: mangle and mutate the original draft so much that the finished product is barely recognizable and the people responsible for draft one nearly sever relations with the company.