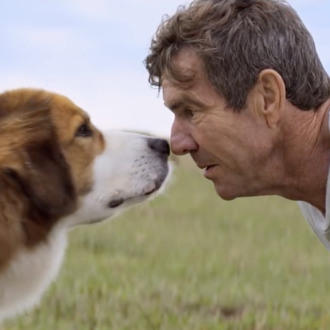 Two days ago, TMZ posted a video of what seems to be a distressed dog being forced to perform on the set of the movie A Dog's Purpose. In the footage, a German Shepherd named Hercules appears to be forced into a tank of churning water despite demonstrating resistance, and once slips under water, eliciting a sudden, fearful reaction from crew members on set. As a result of the video, the movie's Saturday premiere was canceled, and some groups have called for it to be pulled entirely unless large portions of the box-office proceeds were donated to animal-welfare organizations. Now, the author of the book on which A Dog's Purpose was based is speaking up to defend the production, according to Variety. W. Bruce Cameron, who also co-wrote the screenplay, is saying that the TMZ footage misrepresents what actually happened on set with Hercules on the day in question.
"The written commentary accompanying the edited video mischaracterizes what happened. The dog was not terrified and not thrown in the water — I've seen footage of Hercules earlier that day joyfully jumping in the pool. When he was asked to perform the stunt from the other side of the pool, which was not how he had been doing it all day, he balked. The mistake was trying to dip the dog in the water to show him it was okay — the water wasn't his issue, it was the location that was the issue, and the dog happily did the stunt when he was allowed to return to his original spot."
Cameron goes on to admit that "mistakes were made, and everything needs to be done to make sure those errors are not repeated," but also reasserted that the Shepherd in the video "loves the water, wasn't in danger, and wasn't upset." Regarding the moment when Hercules gets pulled under water, Cameron also says that both a scuba diver and a trainer were present in the pool as protective measures. American Humane, the group that monitors animal safety on film and TV projects, said on Wednesday that it had suspended the representative responsible for overseeing A Dog's Purpose during filming, and has since hired an independent investigator to resolve the matter.