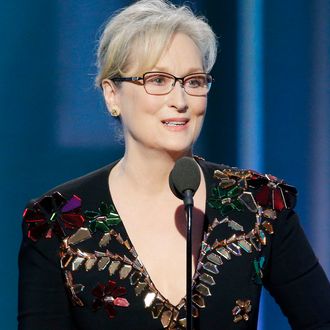 Photo: Handout/Getty Images
Though Meryl Streep never referred to Donald Trump by name in her powerful Golden Globes speech, there was no doubt that she was commenting on the president-elect's "performance" in the 2016 election cycle. Streep spoke about the occasion when the president-elect openly mocked a disabled reporter on the campaign trail as if it were a riveting scene that made its "intended audience laugh." "It was that moment when the person asking to sit in the most respected seat in our country imitated a disabled reporter. It kind of broke my heart when I saw it, and I still can't get it out of my head, because it wasn't in a movie. It was real life," Streep recalled. While the speech became a hit on social media and was widely celebrated, Donald Trump shrugged it off.
Talking to the The New York Times, Donald Trump claimed he was "not surprised"  to hear that "liberal movie people" were denouncing his past actions. Trump called Streep a "Hillary lover" (which was not exactly an unfounded statement) and reinterpreted the ugly occasion with the reporter. "I was never mocking anyone," Trump told the newspaper. "I was calling into question a reporter who had gotten nervous because he had changed his story." He continued,  "People keep saying I intended to mock the reporter's disability, as if Meryl Streep and others could read my mind, and I did no such thing."
Trump also took this opportunity to inform the Times that celebrities like him (really!) will be at his inauguration, despite evidence to the contrary. "We are going to have an unbelievable, perhaps record-setting turnout for the inauguration, and there will be plenty of movie and entertainment stars," Trump said. Which raises the question: Does the Mormon Tabernacle Choir have a movie deal we don't know about?
Update 8:15 a.m.: Trump has also responded to Streep's speech on Twitter, calling the actress "overrated."