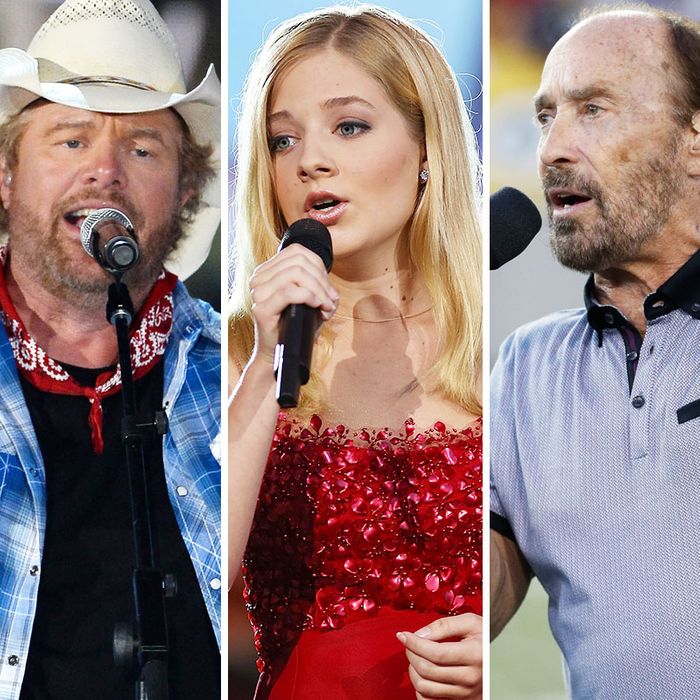 L-R: Brad Arnold from 3 Doors Down, Toby Keith, Jackie Evancho, and Lee Greenwood.
Photo: Getty Images
With the recent withdrawal of Broadway singer Jennifer Holliday and Bruce Springsteen cover band the B Street Band, you can't be blamed for losing track of which singers and dancers are or are not scheduled to appear at this week's upcoming inaugural events. Below you can peruse a list of performers who, along with a host of military guards and marching bands, will be celebrating Donald Trump assuming the presidency. We'll keep this list updated until January 20.
Toby Keith
The country singer, currently the biggest name on the weekend's lineup, will be performing at the pre-inaugural Make America Great Again! Welcome Celebration at the Lincoln Memorial on Thursday, January 19. "I don't apologize for performing for our country or military," Keith told Entertainment Weekly about his plans to fete the incoming president. "I performed at events for previous presidents Bush and Obama and over 200 shows in Iraq and Afghanistan for the USO."
3 Doors Down
The late '90s–early 2000s rock band will also perform at Thursday's pre-inaugural concert. They are most well-known for their first single, the 2000 hit "Kryptonite."
Lee Greenwood
Joining Toby Keith and 3 Doors Down on Thursday is country singer Lee Greenwood, who will likely sing his biggest hit and signature song "God Bless the USA," which the Trump camp used on the campaign trail. "She is going to regret not going in the future. You don't get this invitation very often," Greenwood told Variety when he learned of Jennifer Holliday's decision to pull out of the show. "To say no — I can't imagine the embarrassment she might have later on."
The Frontmen of Country
Lonestar's Richie McDonald, Restless Heart's Larry Stewart, and Tim Rushlow, formally of Little Texas, will also take the stage Thursday evening.
The Piano Guys
The piano and cello quartet who gained fame on YouTube will also perform as a part of the Make America Great Again! Welcome Celebration. "We don't feel right limiting our positive message only to people that believe or act the same way we do," the band said in a statement posted to the group's website earlier this week. "We haven't changed our message. We haven't changed who we are, what we stand for, or what our music means and why we write it. We're still doing what we've always done – playing for anyone who will hear our musical message with the hope that it persuades its listeners to love others."
RaviDrums
DJ RaviDrums, also known as Ravi Jakhotia, is a DJ and drummer who specializes in "live drum remixes." Jakhotia was formerly the music director of Howie Mandel's 2009 show Howie Do It, appeared in The Matrix Reloaded, and played at the 2009 Academy Awards. He will also be performing on Thursday.
Sam Moore
The 1960s soul singer Sam Moore, formerly of Sam and Dave and best known for his hit "Soul Man," has also joined the Make America Great Again! Welcome Celebration. "As an American, I am honored to perform for President-elect Donald Trump," Moore said in a statement. "I was a participant in the civil rights movement and have seen many positive changes and advancement in my 81 years of living in this wonderful country, but I know we must all join hands and work together with our new president."
Jon Voight
The Academy Award–winning actor plans to make an appearance at the concert, presumably to speak rather than sing. The concert will be following the Voice of the People event, which includes appearances by self-submitted groups including the D.C. Fire Department Emerald Society Pipes and Drums, King's Academy Honor Choir, the Republican Hindu Coalition, Montgomery Area High School Marching Band, Marlana Van Hoose, Maury NJROTC Color Guard, Pride of Madawaska, Webelos Troop 177, Northern Middle School Honors Choir, American Tap Company, South Park and District Pipe Band, Everett High School Viking Marching Band, TwirlTasTix Baton Twirling, and Celtic United Pipes and Drums.
Jackie Evancho
The former America's Got Talent contestant, who was runner-up in the show's fifth season in 2010, will sing the National Anthem at the inauguration ceremony itself.  "I hope to just kind of make everyone forget about rivals and politics for a second and just think about America and the pretty song that I'm singing," Evancho told CBS Sunday Morning last week. "I'm hoping that I can bring people together."
The Radio City Rockettes
Despite ongoing internal turmoil regarding the decision, the Rockettes are currently scheduled to perform on Inauguration Day as well.
The Mormon Tabernacle Choir
Jan Chamberlin, a member of the 360-member chorus, resigned over the choir's decision to sing at the inauguration, but as with the Rockettes, the Mormon Tabernacle Choir will appear as part of the inaugural lineup. The Missouri State University Choir rounds out the talent currently scheduled to appear at the ceremony itself.
Tim Rushlow & His Big Band
Not only will the Frontmen of Country singer perform with that band Thursday evening, but he'll also serve as the singer of the Freedom Ball's house band Friday night at the Walter E. Washington Convention Center. The swing-jazz ensemble will reportedly play Donald and Melania Trump's first dance song, which is rumored to be a rendition of Frank Sinatra's "My Way." Rushlow told BuzzFeed, "We'll be playing selections from the great American songbook and from the artists that I love from a time gone by, like Bobby Darin, and Frank Sinatra, and Dean Martin. It's gonna be awesome."
Big & Rich
The "Save a Horse, Ride a Cowboy" duo of John Rich and "Big" Kenny Alphin will be joined by fellow country musician Cowboy Troy Thursday night at the Great America Alliance Inaugural Gala.
Travis Green
While he as not been officially announced as part of the inaugural lineup or the weekend's festivities, the gospel singer announced via Instagram that he will be performing at this weekend's Liberty Ball.
Tony Orlando
The singer, formerly a member of the '70s group Tony Orlando and Dawn, will perform at Friday night's Salute to Our Armed Services Ball, held for members of the military, veterans, and their families at the National Building Museum. Tony Orlando and Dawn had a number of hits, most notably "Knock Three Times" and "Tie a Yellow Ribbon Round the Ole Oak Tree."
Chrisette Michele
After much speculation, a rep for the Grammy-winning R&B singer confirmed to Essence that she will be performing at the inauguration, though the specific event she will appear at could not be confirmed. According to the New York Daily News, she was set to join Travis Greene, Jonathan McReynolds, and Tye Tribbett to sing "Intentional," but because they turned down the offer, she's instead reportedly planning to do a solo R&B set.