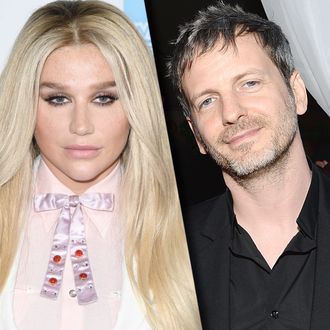 This is far from over.
Photo: Getty Images
After a period of extended standstill, the two-year-long legal battle between Kesha and Dr. Luke has received some ugly new updates. On Monday, lawyers for both artists asked a New York judge to amend their ongoing separate lawsuits against each other. Dr. Luke would now like to sue Kesha for defamation over an alleged text that Kesha sent to Lady Gaga that accused Dr. Luke of raping both Kesha and another unnamed female artist. "Specifically, Kesha told Lady Gaga that 'she [the other recording artist] was raped by the same man' as Kesha," the new filing says, arguing that the "same man" refers to Dr. Luke because the text was sent a week after Kesha lost her preliminary injunction to be released from Luke's label last February. Luke maintains that he did not rape Kesha or another artist. In previous partially sealed court documents, Katy Perry was implicated in a text message between Kesha and Gaga from April 2016, though her involvement is still unclear. Luke is now claiming that since Kesha's court loss, she and her reps have spread false stories to the media and supported "bogus internet petitions" in order to get Luke blacklisted from the music industry.
In an opposing filing, Kesha has doubled down on her fight to be freed from her contract with Dr. Luke. She says that while she's no longer forced to record with Luke, the producer has yet to support her new album — which, under her current contract, would be released on his label — — and has not approved any songs, a release date, or agreed to promote it. Kesha also claims that she's still owed funds from Luke, including royalties from "Timber," and that her finances have been cut off as a "vendetta" for taking Luke to court over allegations of sexual abuse. Rather than requesting more money or changes to her contract to improve working conditions, Kesha is once again urging a judge to release her from Luke's contract. "Kesha asks for something far more basic: the freedom to make music without being bound indefinitely to the very producer who subjected her to years of abuse and continues that abuse to this day," her lawyers write. Both Kesha and Luke are due back in court on February 14.