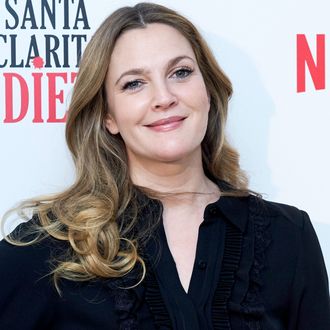 Drew, living that zombie life.
Photo: Carlos Alvarez/Getty Images
Drew Barrymore has been acting most of her life, but this may be the first time she's ever had to convince herself she has a taste for human flesh. For her upcoming Netflix series, Santa Clarita Diet, Barrymore plays a California real-estate agent who turns into a flesh-eating zombie. Unfortunately, Barrymore didn't really love the texture of foot. In an interview with the New York Times, Barrymore discussed what it's like to bite into human flesh. Or at least, very realistic, fake human flesh.
"This company, Tinsley, did all the bodies, and they just knocked it out of the park. We would literally think that someone was sitting there, and it was the dummy version of them. There was a lot of blood and guts and I, uh, ooh, yeah, God, sorry — I just got the shivers because I thought of this one foot I had to bite into, and I hit a bone or a nail or something on my tooth, and that just made me have that fingernails on the blackboard moment. Yeah, I constantly had weird stuff in my mouth."
If she was serious about acting, Barrymore should probably have gone method, but we'll let it slide this time. Santa Clarita Diet starts streaming February 3.