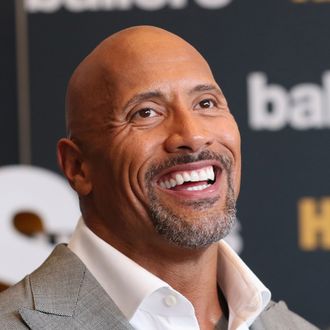 Bald Adam.
Photo: Aaron Davidson/Getty Images
Boy, the superhero economy is a truly odd duck. Way back in 2014, we learned that Dwayne Johnson would be playing Black Adam, the antagonist in DC Comics adaptation Shazam, a movie that isn't coming out until … 2019. It didn't have anyone cast in the role of the title character, much less a director. Now, though the hypothetical film still lacks all of those (somewhat crucial) elements, it possesses a spin-off movie. EW is reporting that Johnson will star in a Black Adam solo flick at some point, and that it'll be set within the troubled DC Extended Universe, a shared cinematic world that includes Henry Cavill's Superman, Gal Gadot's Wonder Woman, Batfleck, and the Suicide Squad. No word on a release date, nor a director or screenwriter.
Needless to say, this kind of confidence borders on hubris, given the critical drubbing and financial underperformance of recent DCEU films — and it's especially surprising given that Shazam and Black Adam are very obscure pieces of intellectual property. That said, this could be a signal of a kind of re-orientation on Warner Bros.' part. Shazam (once known as Captain Marvel, though the existence of another character by that name in the rival Marvel Cinematic Universe has led DC Entertainment to downplay the moniker in its content) is, traditionally, a pretty sunshine-y character, and Warner has been trying to convince folks that their output is about to get funny, hopeful, and optimistic. Then again, Black Adam is not a happy dude, and Johnson recently described the character as "the most ruthless villain/anti-hero of all time," so … we're probably just doubling down on DC's much-criticized grim-and-gritty aesthetic. One of these days, the Superhero Bubble will pop, and this announcement might look like one of its most over-inflated moments.