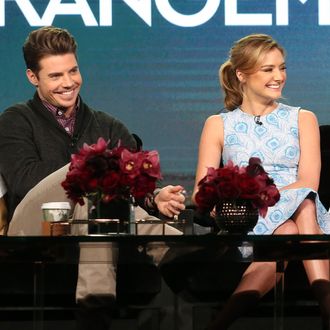 Josh Henderson and Christine Evangelista.
Photo: Frederick M. Brown/Getty Images
E!'s new ten-part drama, The Arrangement, follows aspiring actress Megan Morrison (Christine Evangelista) who is set up with A-list movie star Kyle West (Josh Henderson), and then offered a $10 million marriage contract from his self-help organization, the Institute of the Higher Mind. At E!'s Q&A for the upcoming series, inquiring journalists wanted to know if the story was based on Tom Cruise's rumored marriage contract with now-ex wife Katie Holmes that was supposedly orchestrated by the Church of Scientology, leading E! to issue a statement saying the show was not inspired by anyone in particular. Executive producer Jonathan Abrahams had to shoot down reporters and critics one by one, insisting the show was based on the "whole self-help" world.
"Could you legally tell us if it were [about Tom Cruise and Scientology]?" a TV critic asked Abrahams. "Even if I could legally do it … I don't have the authority to do it," Abrahams responded. "I don't know." He added: "It doesn't matter, because it really isn't." Hmmm. Leah Remini, please weigh in.