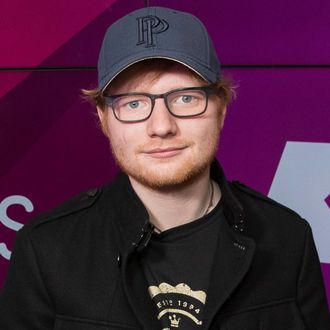 Photo: John Phillips/Getty Images
Last year, the most British injury of all time involving Ed Sheeran, Princess Beatrice, and, for some reason, James Blunt allegedly occurred when Princess Beatrice was asked to fake-knight Blunt with an authentic ceremonial sword while at a party thrown at the Royal Lodge in Windsor. What seemed like a fun three-deep-in-Pimm's-Cups request soon took a bad turn, however, when the princess obliged the request and ended up accidentally slicing Sheeran's face with the sword's blade. Sheeran had to retreat to a local hospital for medical attention, but still returned to the party with a gash. Of course, this was all intense speculation at the time, as nobody from the party or the Royal Family formally commented on the matter … until now.
During a recent interview with Absolute Radio, Sheeran finally broke his silence on the incident, explaining that he had no idea his face had been sliced open until he saw lots and lots of blood. "I got hit in the face and I was like, all right, okay, and then started carrying on and then I looked down at my shirt and it was just completely covered in blood," he said. "And everyone was kind of gaping openmouthed at me. What have I got a nosebleed or something? What's happened?" Sheeran ended up requiring stitches after the incident and a scar is still noticeable on his cheek. Although he wouldn't name Princess Beatrice as the specific culprit, he quipped that it was all a ploy orchestrated by Blunt for attention: "James Blunt would like me to tell everyone that it was him and he was trying to reclaim his pop career by killing me … He actually told me to say that. I'm not being mean." The moral of the story? No. More. Ceremonial. Swords.