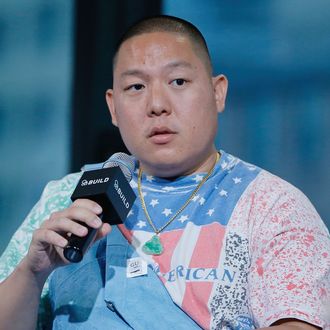 Eddie Huang.
Photo: John Lamparski/WireImage
Steve Harvey engendered criticism this past week when he thought it fitting to spend a segment of his show making racist jokes about Asian men. Bringing up a 2002 self-help book called How to Date a White Woman: A Practical Guide for Asian Men, Harvey thought the very possibility of a white or black woman wanting to date an Asian man was funny, summarizing the book as saying, "Excuse me, do you like Asian men? No. Thank you." His comments have now drawn ire from Eddie Huang, who wrote about his reaction to the "upsetting" and "hypocritical" comments for the New York Times. Framing Harvey's remarks as part of the "structural emasculation of Asian men in all forms of media," the Fresh Off the Boat author explained that the stereotypes become "a self-fulfilling prophecy that produced an actual abhorrence to Asian men in the real world … That's why this Steve Harvey episode is so upsetting.
Huang continues, condemning Harvey for the hypocrisy of how he uses his platform:

He speaks openly about issues facing the black community, he is a man of God, and he has a huge platform to speak from. Unfortunately, he's also the type of guy who orders Krug champagne for himself and Cook's for every one else. For his own personal profit, he's willing to perpetuate the emasculation of Asian men regardless of how hypocritical it is. He isn't the only one doing this in 2017, but as I told myself on New Year's, I'm not drinking anymore of this Cook's they're trying to pour, and neither should you.