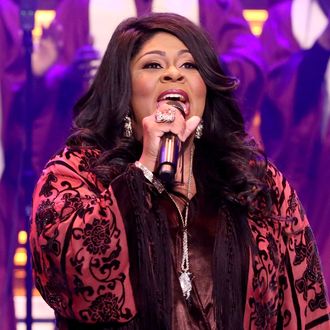 Kim Burrell
Photo: NBC/NBCU Photo Bank via Getty Images
Fans of The Ellen DeGeneres Show are furious and dismayed about an upcoming musical performance on the show by gospel singer Kim Burrell, who recently made some notable, virulently homophobic remarks. Burrell is due to join Pharrell to sing "I See Victory," their song from the Hidden Figures soundtrack, on the show this Thursday, but fans are trying to get the appearance canceled. The firestorm around Burrell centers on a video that surfaced last week in which Burrell, preaching at a Houston church, says, "You play with the homosexual spirit in God's house and you'll die from it in 2017." She goes on to claim, "You as a man, you open your mouth and take a man's penis in your face, you are perverted. You are a woman and will shake your face in another woman's breast, you are perverted." Burrell then shrugged off the backlash, claiming to have never specifically mentioned the LGBTQ community in an address that was intended for "church people." Now, Ellen fans are demanding Burrell be barred from the show. In addition to tweets pressuring DeGeneres to cancel the appearance, a petition asking for the same has garnered 2,500 signatures and counting.
For his part, Burrell's collaborator Pharrell tweeted after Burrell's rant surfaced, writing, "I condemn hate speech of any kind." His statement did not, however, address Burrell or future joint appearances specifically. Janelle Monáe, who is in Hidden Figures and is scheduled to appear on Ellen with Burrell and Pharrell, similarly condemned Burrell's comments without mentioning Ellen or Burrell by name. In a lengthy post on Instagram, she wrote: "I will rejoice when folks stop thinking they ARE GOD, Jesus' assistant, picking and choosing what 'sins' are acceptable in the Bible, and using the Bible as a whip!"
I shouldn't even have to post this as you guys should already know where I stand but If you do not pls know I unequivocally repudiate ANY AND ALL hateful comments against the LGBTQ community. Actually I'm tired of that label. We all belong to the same community, a shared community called humanity. And today and tomorrow and the next day I will continue to stand with other like minded people who condemn any and all statements and actions that would seek to deny the basic humanity of our fellow brothers and sisters. We cannot sit Idly by nor will we speak silently when we are confronted with such violence against members of our community. I am personally beyond exhausted by the ignorance and bigotry living in some people. At times I want to punch and I want to slap a lot of people when I read and hear the shit that comes out their mouthes [sic] !!! I will rejoice when folks stop thinking they ARE GOD, Jesus' assistant, picking and choosing what "sins" are acceptable in the Bible, and using the Bible as a whip! WE can't afford anymore tearing down of our shared humanity. My advice: If your religion is causing you to spew out words of hate, judge, or look down on others because of who one loves then you need to change it. And fast. If the religion don't make you are more loving or better person, ditch it. But what do I know. My hope is that we ALL go into this new year considering for one moment that we don't have all the answers. My hope is that we become more understanding, less judgmental, more tolerate [sic], and more patient with one another. Including me. HAPPY NEW YEAR. 🙏🏿❤
Neither DeGeneres nor a representative from her show has so far commented on the controversy.
Update, January 3: Ellen DeGeneres confirmed in a tweet that Burrell will not be performing.