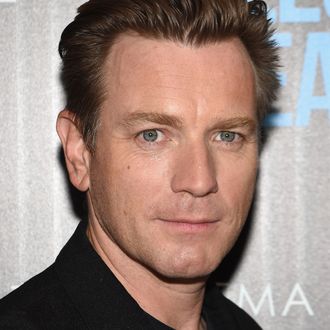 Ewan MacGregor.
Photo: Jamie McCarthy/Getty Images
The new season of Fargo began production in Canada just last week, but the cast and producers appeared at a press conference on Thursday at the Television Critics Association press tour in Pasadena, California, to give a few hints of what viewers can expect when the FX's acclaimed anthology series returns sometime in late April.
Season three features the series' smallest cast — Ewan McGregor, Carrie Coon, Mary Elizabeth Winstead, David Thewlis, and Michael Stuhlbarg — and centers around two brothers Emmit and Ray Stussy, both played by McGregor.
"Twenty years ago, Emmit and Ray's dad passed, and he left to Emmit his Corvette Stingray and to Ray his stamp collection," executive producer Warren Littlefield told Vulture. "Ray was like, 'Wow that 'vette is really cool,' and Emmit was like, 'You're the cool guy anyway and I don't really care about it and should we just swap.' And so they did. Is there a rub? There's a rub."
In the present-day, which is 2010, Ray is a parole officer and Emmit, the older of the two, is the parking-lot king of Minnesota. "But Ray's had hard years so he doesn't look that way," Littlefield said. "One has had skin care and moisture and microdermabrasions, and the other one — not so much. So you've got a quality of life that affects how they age and the way they look at the world. That resentment has been building for 20 years, and that launches us into this year."
Here are seven more things we learned:
Although the first season was set in 2006, producers say this marks the first "contemporary" season of the series, in that Fargo will delve into how technology impacts society and individual lives.
"Noah's really embracing and enjoying that," Littlefield said of creator Noah Hawley, who was ill and could not attend the panel discussion.  "Of course, in Fargo, we're always a 'true story.' So 2010 is really contemporary for us. We need a little bit of time to look back at the true story. And Noah is enjoying how technology in many ways is supposed to unite, and perhaps that's not what happens at all. Visually and aesthetically you'll see Noah commenting [on that]." Littlefield described a scene involving Coon's character in which she's sitting on an airplane and notices everyone around her is staring at screens. "No one is communicating. No one is talking," he explained. "From her perspective that seems very strange, very alien."
Fargo marks the third time McGregor has played two characters at once.
He played clones on The Island and Jesus and the devil on Last Days of the Desert. "I'm very experienced with playing with myself," he joked, crediting the makeup artists and costume designers who help him created the Stussy brothers. "There are a lot of people's hands in the two characters. But it's fun. It's not until you're on set you can figure it out." The most challenging part, he added, is mastering the specific Fargo accent. "It's a very strange accent to lock into. It's the hardest accent I've ever done — I did a Dutch one once and this one is worst," he said. "It's also very familiar. Our audience's ear is attuned to it. And within that accent, then to find Ray's voice and Emmit's voice, and for them not to be the same — there's lots to play with here."
Coon plays Sheriff Gloria Burgle, whom she says "represents a small-town aesthetic and a sense of community she feels has been eroded by forces outside herself."
The difference between Gloria and the law-enforcement heroines of past seasons is that her personal life is falling apart. "She is trying to hang on to who she is inside of what's happening in the macrocosm in the world she's policing," she explained. "I think she is representing decency and ethics — how successful she is is what I think the show is asking this season."
Since production only began last Friday, the actors don't know their characters deeply, but Winstead said that the name "Nikki Swango" told her everything she needed to know.
"She's incredibly smart and savvy and has the capacity to be conniving," she said. "She has a heart. One of the things that Noah said … is that he likes for all the characters to be able to feel like they can be a villain at any given moment or a hero at any given moment. And I think Nikki falls in between those two categories. She definitely has a history and a past and a dark side to her."
David Thewlis has only filmed one scene, so he doesn't even know what the initials in his character's name — V.M. Vargas — stand for.
"He's a very mysterious character," Thewlis said. "He's from out of town. He is possibly ill-mannered and lacking in virtue. He's a Machiavellian-type character and unscrupulous."
Stuhlbarg plays Sy Feltz, a business partner of Emmit Stussy.
"He has a relationship with both brothers, knows them both," Stuhlbarg said. "But he's been working with Emmit for many years and they are very close, almost perhaps in some ways more brotherly than his brother."
"There will be a kiss with the past," according to Littlefield.
"We like the idea that, as you saw in year two, there's this wonderful old book that might say True Crimes of Midwest — imagine the Coens' movie might be a chapter, and each season of Fargo is a chapter from that book. We will have a kiss to season one that we think is appropriate because we're doing a different film each year. But yes, they are related geographically and [there are] some thematic touches. We make some character kisses as well. That's part of the DNA that Noah uses to honor where we came from — from the Coens. Then he takes off in his own original direction."