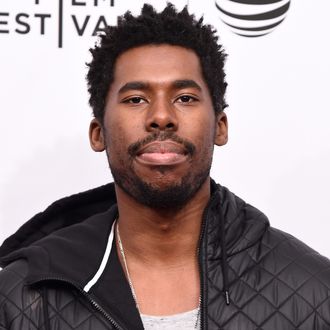 That's one way to make an entrance.
Photo: Ilya S. Savenok/Getty Images
It's not a successful film festival without at least one stomach-churning horror freak show resulting in a walkout, and Sundance 2017 has just found its winner for most grotesque. Over the weekend, Flying Lotus's directorial debut Kuso premiered in full at Sundance. But because it apparently takes days to recover from the traumas that lie within, reports are only now just emerging that dozens of people in the audience left mid-screening due to the film's violent and disturbing content. According to the Verge — which has declared Kuso "the grossest movie ever made" — Sundance audience members started walking out on the film early on "when a boil-covered woman choked a man with a strap until he covered half her face with semen." Those walkouts reportedly continued up until the film's end, for those who braved it. In a Twitter Q&A on Wednesday night, FlyLo addressed the walkouts, saying that the reports are exaggerated and it was closer to "20 people out of like 400 who walked out." Last August, when FlyLo first teased Kuso in a shortened version called Royal, he premiered it with complimentary branded barf bags. "I tried to warn folks," he now says of the controversy.
Because you can't be warned enough, it seems, some other things to know from the film's reviews before attempting to make it through Kuso: George Clinton cameos as a "doctor who keeps a medicinal cockroach in his anus" (though you won't see Clinton's actual anus, phew); an erect penis gets stabbed by a steel rod; and there's an extended rape joke, among countless other obscenities. Watch the film's nauseating trailer below, but try not to faint.