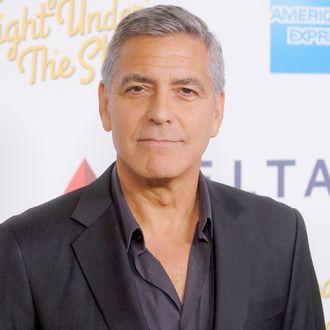 Photo: Frazer Harrison/Getty Images
Noted goddess among humans Meryl Streep brought the house down Sunday when she used her speech while accepting the Cecil B. DeMille Award at the Golden Globes to stage a scathing takedown of President-elect Donald Trump. (A brief taste of her powerful speech: "Disrespect invites disrespect. Violence incites violence. And when the powerful use their position to bully others, we all lose.") Celebrities have been rallying around Streep ever since the ceremony aired, especially in light of Trump himself calling Streep an "overrated" actress and a "Hillary flunky who lost big." Now, another one of Streep's peers, George Clooney, is speaking out in support of her speech, and he didn't mince words when asked by reporters about Trump's social media spews.
"Aren't you supposed to be running the country? I didn't vote for him, I don't support him, I don't think he's the right choice. At this moment in our lives we have to hope that he doesn't destroy everything. The reality is you have to hope he will do a decent job because if the United States fails, really terrible things happen, so you have to hope that he can. I don't see any signs of it … I think we're going to be a little unlucky now."
Clooney also joked that he's "always said" Streep was an overrated actress. "She's maybe the most overrated actress of all time," he explained. "She and I worked together on Fantastic Mr. Fox as husband and wife and I will tell you even as a fox, a female fox, she's overrated." Way harsh, Cloon.