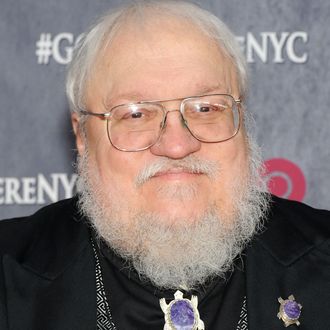 George R.R. Martin.
Photo: Jamie McCarthy/Getty Images
Even if The Winds of Winter doesn't come out in 2017 as promised, we're still guaranteed at least one new piece of writing by George R.R. Martin this year. Eagle-eyed fans have discovered the online presence of an anthology called Book of Swords, set to come out October 10, which promises a new story from Martin "set in the world of Game of Thrones." As with Martin's recent anthology contributions "The Princess and the Queen" and "The Rogue Prince," it seems likely that the story in Book of Swords will be comprised of previously written historical material cut from The World of Ice and Fire, with one ASOIAF expert speculating it will be a version of "The Sons of the Dragon," a story about Aenys and Maegor Targaryen that Martin has read at fan conventions over the years. Which is another way of saying that this won't slow him down from writing TWOW at all. You can relax!
Update, February 1: In a post on his LiveJournal, George R.R. Martin has clarified some of the details of his contribution to Book of Swords. His story in the book is indeed titled "The Sons of the Dragon" and he promises that it's "a history rather than a traditional narrative. A lot of telling, only a little showing. But if you're fascinated by the politics of Westeros, as many of my readers seem to be, you should enjoy it." The story will focus on Aenys and Maegor Targaryen, as expected, and Martin has indeed read a few excerpts of it at fan conventions. Martin also notes that, as he's neither the editor nor the co-editor of the anthology, he hasn't read the other stories in it, but promises that they will be very good.