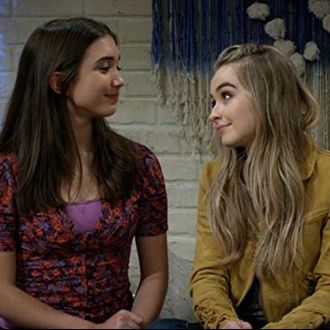 Girl Meets World.
Photo: Disney Channel
Girl Meets World was canceled by Disney Channel after three seasons, but there's a chance that the show could meet a miraculous resurrection. As Girl Meets World (and Boy Meets World) creator Michael Jacobs revealed to the Wrap, there are talks of continuing the show elsewhere. He shared, "We are certainly having discussions, there are some interested platforms." Jacobs also expressed his frustration with the cancellation, saying that it was his understanding that Disney Channel was committed to four seasons of the show, leaving Jacobs to "set it up" around that plan. (A source reportedly disagrees, noting that the show was contracted for three seasons with only an "option" for a fourth.)
If Girl Meets World is revived at a new home, Jacobs says he has some idea of what the continued show will look like. The four-season plan would be tossed, and, as for the cast, he believes, "Everyone will be on board." He's also eager for the chance to tell more mature stories, suggesting that a point of divide with Disney Channel was that "the mandate of that network is younger kids … we simply outgrew that venue." But, hey, this is Girl Meets World we're talking about, so even if the show doesn't find a new home, there's lesson-learning and forgiveness in store. Of the Disney Channel experience, Jacobs reflects, "One of the things about meeting the world is that sometimes you will make a mistake … So it's OK that Disney Channel made a mistake." This show, too good for (meeting this) world.