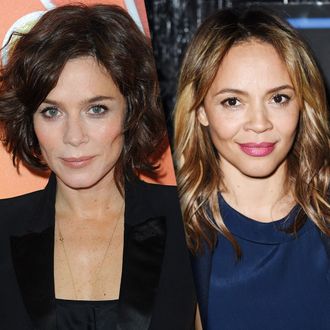 Anna Friel and Carmen Ejogo.
Given the twisty, thrilling nature of its first season, of course The Girlfriend Experience is going to do something very different in season 2. Starz announced today that the series will feature two parallel storylines in its second season, each written and directed by one of TGE's two showrunners. One, headed up by Lodge Kerrigan, will be set in Washington, D.C., during the 2018 mid-term elections. It'll focus on the relationship between the finance director of a Republican super PAC (Pushing Daises's Anna Friel) and a GFE provider (Billions's Louisa Krause), whom she gets to help her blackmail a "high-powered dark money fundraiser" before the two fall into a "complicated sexual relationship, marked by an exploration of vulnerability, dominance, and submission." Is this a 2018 where Trump won? Because we're not sure we want to combine his politics with sex right now.
Seimetz's storyline, meanwhile, will follow a woman named Bria Jones (Selma and Fantastic Beasts's Carmen Ejogo), who moves to New Mexico after "discovering disturbing information about a regular client." There, she "navigates her new penniless and surreal existence by forming eerily intimate transactional relationships." It's not clear at the moment how the show will divvy up its 14-episode season between the two parallel storylines, but it will surely continue to feature a lot of glass-plated sets and melancholy stares into the middle-distance.