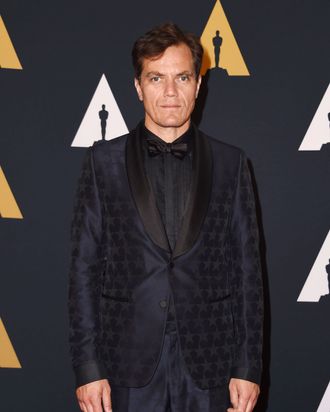 Michael Shannon, smiling.
Photo: VALERIE MACON/AFP/Getty Images
A few months ago, when New York decided to feature Michael Shannon in our first Oscars issue, we knew he was a long shot for a nomination. But we just love the guy. He's a freaking national treasure, and he was in eight movies this year, an astounding feat worthy of its own kind of award. So we were both surprised and pleased to see Shannon's name on the list of Oscar nominees for Best Supporting Actor this morning for his mesmerizing work as a West Texas police detective tearing up the desert while also hacking up a lung in Tom Ford's Nocturnal Animals. And in honor of Mr. Shannon, the goddamn genius, here's the full transcript of a conversation we had with him about awards this November over margaritas and guacamole.
You talk a lot in interviews about how you wish you said "no" to projects more, and could be more like Daniel Day-Lewis. 
Well, he does it the right way. He figured it out. You know, it's funny. I went to the New York Film Critics Awards the year he was getting an award for Lincoln, and Spielberg got up and talked about how hard it was to get him to do that movie. And I was sitting there listening to that speech like, "Good for you. Good for you, Danny. That's what you gotta do." It was always in the most respectful way that he would say, "No, I'm not doing this." Like, he'd send these beautiful, handwritten letters, very poetic, but would end with "I'm not doing this movie." Five times! And then he was like, "Well, all right."
Speaking of that, what do you think about awards? We're doing this awards issue …
I'd better win a damn Oscar if you're putting me in the Oscar issue! It's about damn time, Jesus!
Do you care about awards?
I don't know. It's all context, isn't it? I mean, when you're there, that night, and you get the award, I'll bet it feels pretty cool. But if a couple weeks after you got the award, you got kidnapped and taken to Guantanamo Bay and put in a cell, you probably wouldn't care if you got an Oscar or not.
It's going to involve a lot of hand-shaking. 
Yeah, I'm gonna do very little of that this year. I mean, I'll do a little bit of it. It's intriguing to a certain extent. I'm just always kind of bewildered by it, because I look back at my life and where I come from, and the fact that I've gotten to this place, to be in this position, it just never ceases to amaze me. 
Are you talking about being in the position of having a view of the Statue of Liberty from your apartment, or in the position of just being an actor? 
The first time I went to the Oscars, I was like, "This just doesn't make any sense." But then you think, probably a lot of people feel that way.
That you were there?
Yeah, that I was there, that I'd be there at all. 
I think Philip Seymour Hoffman probably felt that a lot.
Aw, Phil. Poor guy.
He was a big champion of yours. Did he ever give you advice about the Oscars, when you were there?
No, he never talked about it. I think we were there the same year, right? He was up for Doubt. I think he seemed pretty happy about winning for Capote. How can it not be exciting? How can it not? You'd have to be a corpse not to be excited.
Do you remember sitting in that room when you were up for the Oscar last time, for Revolutionary Road [in 2009]? Were you drunk?
No, I wasn't drunk. I remember! I sat there and watched Heath's father make the speech. It was kind of beautiful, but it was also hard because my own father had just passed away shortly before I did that. It was an intense experience. 
What do you think about the idea that you have to campaign for it?
Well, you don't, really. I mean, look who won last year.
Wait, who won last year? [Ed Note: I really couldn't remember.]
Ha ha!! [slamming palm on table]
Leo DiCaprio won …
I'm not telling. But this is the perfect example of why it doesn't fucking mean a hill of beans! It's the same thing with the World Series! A year from now, people will probably remember the Cubs, but you don't know who won last year, do you?
No, I don't care enough about baseball!
I'm not letting you off the hook! Tell me, who won Best Supporting Actor last year?
[A long pause.]
Rylance. Mark Rylance! 
He didn't campaign for shit! He didn't do anything! And then he just got up and was like, "Well, everybody's good." You don't have to campaign. I think it's all … hocus-pocus.
You're shaking your head at me that I forgot!
I wasn't judging you! I was just saying that's a perfect example of how it just doesn't matter.