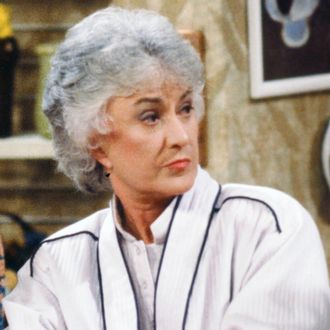 Photo: Alice S. Hall/NBC/NBCU Photo Bank via Getty Images
Not having a Valentine's Day date is hard enough, but not having a good lady friend on Galentine's Day can cut like a knife slicing into your sweet cream-cheese-and-graham-cracker-crust core. Luckily, your insecurities about being alone on a fictional holiday established by a certain NBC sitcom will be soothed by Hulu's announcement that The Golden Girls will be available to stream as of February 13. GG is the perfect show to sit across from on Galentine's Day and tell rambling stories about the folks back home. Who says you can't split a piece of delicious cheesecake with a television show? Your mom, who says she's worried about you? Well, has she ever even tried?

Golden Girls will also be joined on Hulu by Body of Proof, Desperate Housewives, and Private Practice, which you've always said are the Dorothy, Blanche, and Sophia to your Rose.