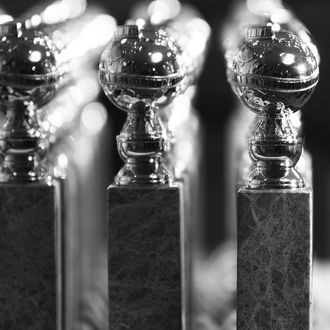 Photo: Alberto E. Rodriguez/WireImage/Getty Images
Start finalizing your category brackets and brush up on how to properly pronounce "Saoirse Ronan" because on Sunday, the glitz and the glam of awards season finally commences — the 74th annual Golden Globe Awards will air on NBC beginning at 8 p.m. EST, with Jimmy Fallon as host. If you don't have access to the Peacock, unfortunately there are no alternate streaming options for the awards show. You'll need a verified cable subscription to watch on NBC.com, where the entire ceremony will be livestreamed for subscribers.
There is a free option to watch the entire red-carpet portion of the evening, however. The official Twitter account of the Globes is livestreaming all of the celeb arrivals via Twitter Moments from 6 p.m. to 8 p.m. EST. If you do have cable, NBC's Golden Globes Arrival Special begins at 7 p.m. EST. Or, if you're more of an E! person, the network's Red Carpet Live coverage begins a bit earlier at 6 p.m. EST. And, of course, we'd be remiss if we didn't plug Vulture's own (excellent) livetweeting and liveblogging Globe coverage. Happy watching!