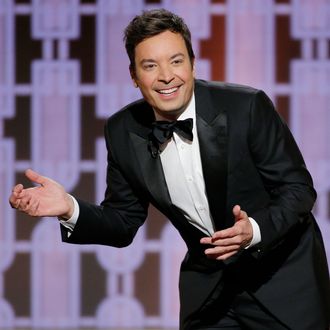 You did an okay job, Jimmy.
Photo: Paul Drinkwater/NBC
Donald Trump might not have liked Sunday's Golden Globes ceremony, but TV audiences certainly seemed engaged: Slightly more than 20 million viewers watched the 74th annual awards show, according to Nielsen. While far from a record, that number represents a rebound from 2015's less-than-spectacular ratings performance (18.5 million) and reverses a two-year slump in the show's ratings. With Jimmy Fallon taking over from Ricky Gervais as host, Sunday's three-hour telecast also ticked up among NBC's target audience of adults under 50, averaging a 5.6 rating (vs. 5.5 in 2016). Fallon fell short of the heights reached by fellow Saturday Night Live aluma Tina Fey and Amy Poehler, whose last Globes hosting gig scored a 5.8 in the demo. (The duo did even better in 2014, boosting the show to a 6.5 rating.) Still, given recent sharp ratings declines for most linear TV broadcasts the past few years — including awards shows — scoring any increase at all is a bit of a triumph for both NBC and Fallon. Looks like the president-elect won't get the chance to tweet out any nasty comments about viewers rejecting the Hollywood elites or Meryl Streep's instantly viral speech.