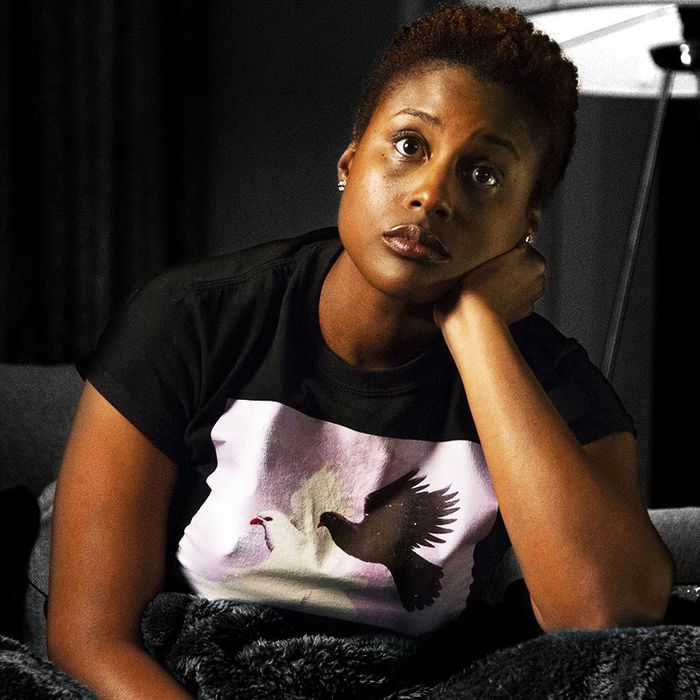 Give this woman a Globe.
Photo-Illustration: HBO
Several television shows that have been jockeying for a spot on your "what to stream next" list will vie for a Golden Globe Award during this year's ceremony on Sunday, January 8. Of all those new and/or semi-obscure shows and the actors who appear in them, which ones would benefit most by winning a high honor from the Hollywood Foreign Press Association?
Come, let's suss it out together.
Billy Bob Thornton, nominated for Best Performance by an Actor in a Television Drama
Obviously you know who Billy Bob Thornton is. But did you know that he stars in an Amazon series called Goliath? There's a good chance you did not, which is why a win for Mr. Thornton — which would mark his second Globe, following his triumph two years ago for Fargo — could go a long way toward making the public aware that Goliath exists.
Winona Ryder, nominated for Best Performance by an Actress in a Television Drama
No one needs to be reminded that Stranger Things exists. If you aren't aware of it, either your head is plunged deeply into the pop-cultural sand or you got dragged into the Upside Down for the last six months. (If the latter happened to you: Kudos! I suspect things are more fun there than they've been here.) The question is what a Globes win would mean for Ryder, whose role in Stranger Things technically was not a comeback, but nevertheless felt like one. While she's been honored to some extent in recent years — she was part of the ensemble of Black Swan, which was nominated for a Screen Actors Guild Award in 2011 — this Globes nomination marks a more definitive return to the trophy circuit for her, along with the SAG nomination that followed. Seeing her make an acceptance speech on Sunday night would more formally confirm what was already known: Winona is not just free, she's back.
Issa Rae, nominated for Best Performance by an Actress in a Television Comedy
Rae had a breakout year thanks to the authenticity and vibrancy that she brought to her HBO series Insecure. A win for her would be a big deal from a — pardon me while I speak like a publicist for a second — "recognition of the brand" perspective. It would also be huge for the same reasons that previous wins for Gina Rodriguez and Rachel Bloom were huge: They publicly announced the arrival of fresh voices that need to be heard more widely.
Nick Nolte, nominated for Best Performance by an Actor in a Television Comedy
Again, you know who Nolte is. And since posing for the world's most unfortunate mug shot, he's certainly been working and getting recognition for that work. But if I surveyed 100 random people on the street and asked them if they had heard of a TV show called Graves, I'm going to guess none of them would know what I was talking about, and at least two of them would probably try to have me committed. Point is a win for Nolte would be good for Graves, which, for the record, is a real Starz — correction: Epix — series about a former president who starts speaking truth to power. It is an actual show, I swear, and no, I am not crazy.
Riz Ahmed, nominated for Best Performance by an Actor in a Limited Series
After the year he's just had, most people know Ahmed by face, if not by name. He was in Rogue One. He was in The OA. And he was in The Night Of, the short-run crime drama that ran on HBO this season and features the fascinating, deliberately enigmatic performance that earned Ahmed this nomination. People who watch film and television have known how good this guy is for a while. But a major broadcast event like the Globes would mark a new career milestone for him and ensure that more people are familiar with the name as well as the face.
This Is Us, nominated for Best Television Series – Drama
One of the most-watched new shows of the fall shouldn't need any assistance from the Globes. But hear me out: Even though This Is Us is already doing just fine in the ratings department, a major award — yes, even one from the Hollywood Foreign Press — would solidify the impression that it is a prestige show in addition to a popular one. It also could potentially convince holdouts to jump on the Pearson family bandwagon at a key moment: two days before it returns to the air following a cliff-hanging mid-season finale. Yeah, I'm pretty sure I can already see and hear the NBC This Is Us promos touting its status as a Golden Globe winner.