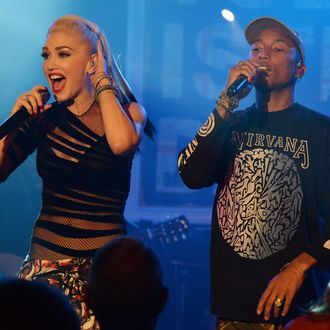 Gwen Stefani and Pharrell Williams.
Photo: Kevin Mazur/Getty Images for The Apollo
Gwen Stefani and Pharrell Williams have been named in a lawsuit alleging copyright infringement. According to The Hollywood Reporter, singer-songwriter Richard Morrill is suing Stefani, Williams, Stefani's company Harajuku Lovers, and Interscope Records, claiming that the chorus of "Spark the Fire" rips off Morrill's 1996 song "Who's Got My Lightah." Morrill alleges that he gave Stefani a CD featuring "Who's Got My Lightah" nearly two decades ago when Stefani was a guest at his salon. He says he discovered the alleged infringement when he saw a video of Stefani and Williams performing "Spark the Fire" on The Voice in 2014 and noticed that the lyrics, as well as the rhythm, melody, and background music, were substantially similar to those in his own work. Morrill is seeking damages, an injunction, disgorgement of the song's profits, and a declaration that his copyrights were infringed.