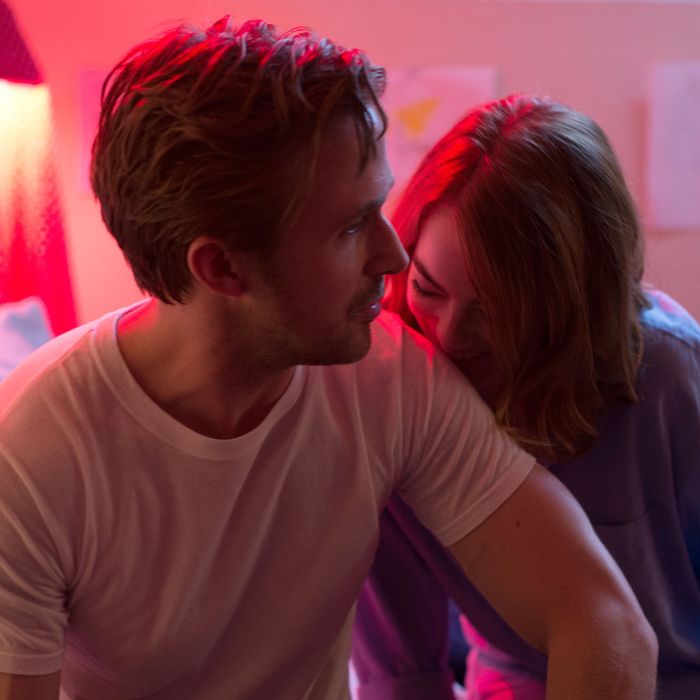 Ryan Gosling and Emma Stone in La La Land.
Photo: Lionsgate
More like "City of Ours," am I right? Damien Chazelle's modern Los Angeles musical utterly dominated the Golden Globes tonight, sweeping every single award it was nominated for, including Best Comedy or Musical, with a record-setting seven wins in total. That's one more than former Globe pace-setters One Flew Over the Cuckoo's Nest and Midnight Express, and the kind of trophy-gobbling streak La La Land needed to assert its long-assumed bona fides as this awards season's front-runner.
What of Moonlight and Manchester by the Sea, the two films that have so far posed the most competition to La La Land? Moonlight came out of the night the best-positioned, triumphing over Manchester in Best Drama, but both films lost in key categories they'd been tipped for: Moonlight's Mahershala Ali finally met a Best Supporting Actor race he couldn't win, losing to Nocturnal Animals' surprise victor Aaron Taylor-Johnson, while Chazelle took the Best Screenplay nod that many thought would go to Manchester's director-scribe Kenneth Lonergan.
This is where the usual caveats about the Golden Globes come into play: The small organization of eccentric foreign journalists contains, at most, just one Academy member, so any assumption that the Oscars will follow lockstep in the Globes' footsteps are overblown. What's more, both Spotlight and Birdman, the most recent Best Picture winners, missed out on the Globes' biggest prize: Last year's Globe winners were The Revenant and The Martian, while the previous year gave its top trophies to Boyhood and The Grand Budapest Hotel.
That said, it never hurts to be seen winning, and La La Land did exactly that, over and over. It wasn't just that Chazelle's movie triumphed in the somewhat easier comedy-musical categories it was nominated in, it was that even in the drama categories, its primary competitors put up meager showings. This awards season, we've assumed that Best Actress would come down to La La Land's Emma Stone and Jackie's Natalie Portman, but the latter lost to Elle's Isabelle Huppert while Stone cruised to victory in her own category. These things often come down to momentum, and there's no denying La La Land has got it. The movie might begin with a sequence set in deadlocked traffic, but from here, expect La La Land to enjoy a smooth journey to Oscar.