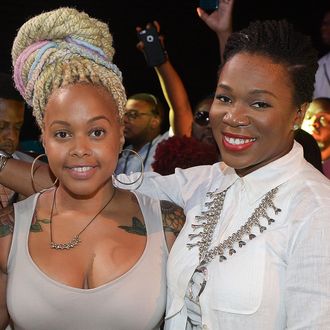 Photo: Paras Griffin/Getty Images
President Donald Trump was inaugurated last Friday, but, due to an ongoing national debate about how many people were actually in attendance and/or who watched on TV, it has become the Inauguration That Would Not Die. While the debate rages as to how many hundreds of thousands (or, hey, maybe millions) of Americans made it to the National Mall, singer India Arie is trying to shut down at least one aspect of the seemingly unending dispute: the online harassment of Chrisette Michele, who has publicly struggled with the blowback from her decision to perform for Trump at one of the inaugural balls. Arie posted an open letter beseeching Michele's detractors to stop harassing her on social media and maybe, just maybe, direct their anger at the actual source of their ire.
"Social media is a powerful tool, that becomes a weapon, when people start treating each other as little more, than the little blue screen in front of them. Basic truth: When we see people as less than human, it gives us permission to treat each other as less than human. THIS IS THE FUNDAMENTAL ISSUE FACING AMERICA AT THIS TIME," the singer, who is longtime friends with Michele, explained in a post entitled I Stand Up for @ChriseteM. "IF WE CAN JUST FOCUS OUR ATTENTION WHERE IT MATTERS, WE CAN AFFECT CHANGE." You can read her entire statement here.