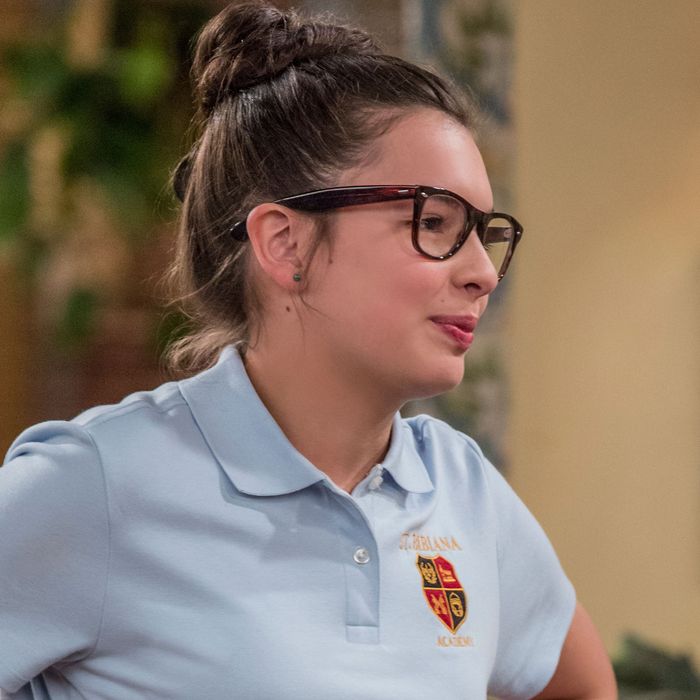 Isabella Gomez in One Day at a Time.
Photo: Michael Yarish/Netflix
Less than two years after Isabella Gomez's family moved to Los Angeles so she could pursue her acting dreams, she feels like she already hit the jackpot. The 18-year-old actress stars as Elena Alvarez on Netflix's revival of Norman Lear's One Day at a Time, which premiered on January 6 and features a Cuban-American family living in the L.A. neighborhood of Echo Park.
Gomez was born in Medellín, Colombia, where she started acting in commercials at the age of 5. When Gomez was 10, her family moved to Orlando, Florida, where she learned English and worked with a coach to diminish her accent. From there, she landed a role on El Rey Network's Matador that required flights back and forth to L.A. until 2015, when her parents finally decided to make California their permanent home. After booking a small role on Modern Family, Gomez learned about the One Day at a Time revival. The show's executive producers were having a hard time casting the role of Elena because of the character's tricky contradictions: She's wise and worldly, but also immature and inexperienced. Elena's journey of self-discovery winds up being the heart of the first season, which made the casting decision all the more crucial to co-showrunners Gloria Calderon Kellett and Mike Royce.
"She is just such a beautiful soul, Isabella, and she is so talented," Royce said. "She really does bring this warmth to Elena, where I think you could see it being played in a way that makes you really root for that character. And that's all Isabella. That's all her charm."
In a recent interview, Gomez spoke to Vulture about auditioning for Norman Lear, the challenge of playing Elena, and what it was like to work with Hollywood legends like Rita Moreno and Justina Machado in her first starring role.
Tell me about the audition process. How did you get to play Elena?
Well, it's funny, my coach sent me an article and she said, "Look at this show. It's a Norman Lear sitcom. You'd be great for it." I was in the middle of testing for another show, so I read the article and I thought it was great, but I was focused on the other thing I was doing. I ended up not booking that other show and my manager Doyle Rice sent me this audition and he attached an article. I opened it and I'm like, Oh my God, this is that article I had already read. It felt like fate to me. So, I went in, I did the audition, and I felt so good about it. But then I didn't hear back for about a month, so I had let go of it. After a month, I got a callback and there were nine people in there, including Mr. Norman Lear, which was a little bit intimidating, not gonna lie. It was crazy. Norman Lear's sitting there in his iconic little hat looking at me like, Alright, let's go. So I did the thing, and then after that it was pretty quick. That same week, I met Justina and [actor Marcel Ruiz, who plays Alex Alvarez] and we did a chemistry read. By the next week, I was booked.
Did you know her story line would be so central to the season's narrative?
I'm so lucky. Elena is based on Mike Royce's daughter. So she's obviously very important to our showrunners, and her story is so current. It's about something that's going on right now, and her sexuality is so important right now and it's a struggle that so many people deal with. I think that's why her story is so central. They trusted me so much with this role. She's important in today's age.
You mentioned being intimidated with Norman in the room for the audition. He was on set a lot for production. What was it like being around him?
I knew who Norman Lear was because Norman Lear's a big deal, but I had never really looked into it. At first it was intimidating, but I got to know him as a person instead of as the legend that everyone sees. It's kind of cheesy, but he's like a grandpa. He was there every day and he's the sweetest human being. He's always ready to laugh and make jokes, and he gives notes in such a caring manner to actors. He never makes us feel bad about our choices. He's just such a genius and I feel so blessed to even know this man — let alone work for him.
Did he give you any notes that you really took to heart?
During the audition process at the callback, I was doing the debate scene and he said to do it again, but to do it as if I was imitating my own mom. That really helped. I think that's what made it grounded and made it real because I was imitating my Hispanic mother. I stuck with that through the whole scene.
What was it like working with an icon like Rita Moreno and the fierce Justina Machado?
Oh my God! Those crazy ladies! It's funny because Rita Moreno is a Hollywood icon. But on set, she was grandma. She has grandsons so she loves Marcel like her own. And he's 13, so he's a prankster. He's young. He would go around pranking Rita, and I would follow him to make sure he didn't do anything crazy stupid. And then one day, it was probably during episode three — we had not known Rita for that long — he went up to her and said, "Let's take a selfie." He has this little phone thing that when you click it, water squirts out. And he squirted Rita Moreno straight in the face and she cracked up. She couldn't breathe. She thought it was the best thing in the world. She's such a goofball. The woman is 85 years old. She would show up to set in crop tops with her perfect abs. She was dancing during 13-hour days. It was amazing.
And Justina, she's like my mom. Truthfully, she feels like a second mom to me. We text all the time. She's just so genuine. I think what I like most about her is that she's been working in this career for decades and it hasn't changed her at all. She's the most genuine person I've met. She's real and she's raw and she's not afraid to be herself and to be unpolished. If she needs to tell someone what she's feeling, even if it's not pleasant, she will. She stands up for herself, and I think she's a true, true feminist. She's also super loving and funny and caring and so talented. She's hilarious, of course. But those darker moments were unreal. We would all get goosebumps watching her do her thing, and she did it like it was nothing. She just clicked it on. She was laughing right before she went on and then she'd go on and sob and do this beautiful monologue and then get offstage and start laughing again with us. She's such a true talent, and I love her.
This interview has been edited and condensed.