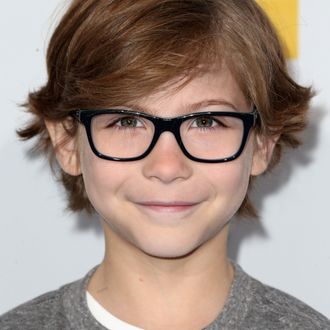 Jacob Tremblay, a human child.
Photo: Frederick M. Brown/Getty Images for WE Day
Quick, somebody get Jacob Tremblay an adorable little camouflage uniform. According to The Hollywood Reporter, the star of Room and awards-show sensation has signed on for a role in Shane Black's Predator reboot. Narcos' Boyd Holbrook, This Is Us' Sterling K. Brown, Moonlight's Trevante Rhodes, and Olivia Munn (who is not Olivia Wilde) fill out the rest of the cast. Tremblay will play Holbrook's son, who discovers the existence of aliens, though all the adults ignore him because they haven't seen enough Steven Spielberg movies. He's "autistic and bullied in school but becomes a key player in the fight due to his preternatural ability to learn languages." Hasn't Jacob Tremblay suffered enough onscreen trauma? Can't we put him in a happy movie?