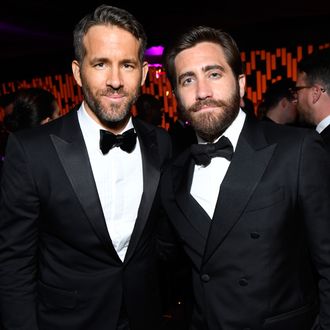 Jae Gyllenhaal and Ryan Reynolds.
Photo: Matt Winkelmeyer/Getty Images for InStyle
No one loves Ryan Reynolds in Deadpool more than Ryan Reynolds does, but Jake Gyllenhaal might just come close. The actor talked Oscar snubs at a recent screening of Nocturnal Animals, and rather than mention his own unrecognized work for that film, Gyllenhaal waxed poetic about Reynolds's Deadpool performance. He raved, "We talk about brilliant performances all the time, you know, the actors who tear themselves apart for their roles, which I'm a believer in. But then I look at Ryan Reynolds in Deadpool and I say, 'No one can do that but him.' That is truly, purely him. As an artist, he struggled for several years to figure that out, and it's all there on the screen. And it's brilliant."
Gyllenhaal also suggested that the snub had more to do with the Academy's lack of love for superhero movies than any missing wonder on Reynolds's part, saying, "Sure, it's a comic-book movie and it's made a lot of money — but that doesn't subtract from Ryan's extraordinary work. Because it's him. I mean, let's ask ourselves: What else do we want from people who create? Something that is truly them." Of course, while it is indisputable that Ryan Reynolds is extremely Ryan Reynolds in Deadpool, we wouldn't call his "tearing [himself] apart" for the role a mutually exclusive possibility.